Thursday, December 20, 2018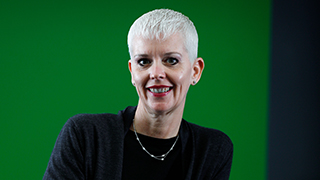 Renee Robinson, Ph.D., a professor in the M.A. in Strategic Communication Program within the College of Communication and Arts, recently published a book for human resources personnel and leaders in various organizations who seek to design meaningful digital-learning opportunities for employees. Digital Training@Work: Engaging and Educating Employees Online is based on her experience working in leadership positions in several higher education institutions where she focused on preparing both faculty and students for a changing educational and professional work world.
Robinson, who has published and presented numerous papers on classroom assessment, communication pedagogy, computer-mediated communication and classroom instruction as well as mobile technologies and student engagement, is actively integrating her research into the classroom. She currently teaches the following courses: Organizational Communication, Communication Research and Methods and Strategies of Communication.
Her latest publication focuses on improving organizational interactions and employee learning through communication strategies and educational theories associated with effective digital training and development experiences aligning with organization goals. The book highlights digital training and development programs along with variables that related to employee engagement and learning. Per Robinson, organizational communication is changing as issues of communication arise in diverse populations and often employers are interested in how to improve work experiences.
After teaching training and development courses, Robinson discovered instances where managers lacked the skill set to create an effective job-training module — and employees lacked the skills to successfully complete the training. "Most jobs are implementing online job-training and as scholars, we must contribute to the evolving field of organizational communicating. If you are not trying to improve the human condition, what is the point?" she commented.
"This book was written because organizational communication is becoming a staple for businesses," Robinson said. "We spend most of our days at work, so it is important to have effective internal workplace interactions. Communication may not fix every problem, but it can address a lot of issues."
Robinson has published three other books and works with the publishing company bookboon.com that emphasizes the importance of peer review which is highly regarded in the academic field. Her motivation to work with this specific company is its reasonably priced books that allow "students to have access to affordable information."
She shared some words of wisdom to students who are engaged in research projects. "Choose a topic you want to know more about and that will bring passion into your project. When you find your topic, research it; no one can write about something they don't know."
The College currently offers three Master's-level programs, including Museum Professions, Strategic Communication, and Public Relations. In addition, four dual-degree options, including three accelerated B.A./M.A. programs and a dual M.A. degree with the School of Diplomacy and International Relations are offered.
For more information about Graduate Studies within the College of Communication and the Arts, please contact Dr. Ryan Hudes.
Categories: Research