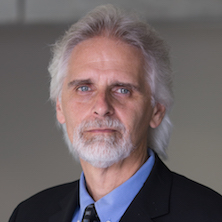 Each year, the University awards the title of Teacher of the Year to nominated outstanding full-time and adjunct professors from each school and college. The College of Communication and the Arts' 2021 nominee, William Pace, M.F.A., faculty associate of Digital Media Production, was awarded this prestigious honor due to his teaching methods that utilize experiential learning to spark creativity, encourage engagement and assist students in making a connection with their work.
According to College's Founding Dean Deirdre Yates, M.F.A., "A good teacher has the ability to listen to each student, as an individual, to meet them where they are so that they can be taught in a profound and unique way."
Professor Pace, who teaches multiple Digital Media Production courses, including Introduction to TV and Film Production, TV and Film Writing, Advanced Screenwriting and Digital Cinema, is a professor that emphasizes the need to teach in this way. Pace stated that when teaching, he consistently asks, "How can I engage?" in order to build a connection with each student and determine the story that they are trying to tell through film or television. Regarding media production, Pace said, "You're both forced and are forcing students to be creative, pushing past what you normally wouldn't talk about to create something with an important story." Just this past January, Pace's Digital Cinema students completed and released a 19-minute long film titled, "Cammy," starring the University's Gretchen Hall, M.F.A. Written by Pace, "Cammy," was a short film completely crewed by students that is currently in consideration for film festivals around the world.
The University recognizes outstanding teachers in every College on a yearly basis. Award winners are determined after reviewing recommendations from students, Department Chairs and College Deans. At Seton Hall, outstanding professors reinforce the University's goal to encourage experiential learning and student engagement. Dean Yates recognized that Professor Pace encompasses these qualities stating "Professor Pace loves learning and education and understands the life-changing impact a quality educational experience can have on a student," she said. In Pace's courses, he seeks to provide a safe space for students to experience what their workplace would be like to allow them to make mistakes and learn to correct them. In later classes, students are then empowered to create content on their own after learning through action and from mistakes.
Pace, who has recently been featured in several film festivals and is currently developing two additional films and his first book, reflected on the award that honors his achievements. "I'm very honored. I've always wanted to be in school as a child, and I've never left. I still remember connections I've had with teachers in the past, and I want to be that for students," he said.
"I want to say thank you to Seton Hall," Pace added. "When I first started teaching in the College of Communication and the Arts, I realized quickly that they care; they take time with teachers that I hadn't experienced before from other universities or schools." When commenting on the University awards for Teacher of the Year, Dean Yates said, "Accomplished teachers are special people and the College of Communication and the Arts is very fortunate to have such a talented and gifted professor as Professor Pace."
Categories: Education