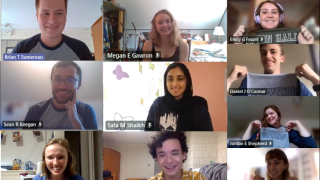 Brownson Speech and Debate team met for a Virtual Fall Retreat in late September.
The Seton Hall Forensics Brownson Speech and Debate Team housed within the College of Communication and the Arts started another season strong, rounding up awards despite the challenges of communicating and competing in a virtual format.
"Our team has strategically aligned the competition style and selection of the students' events to the new virtual medium of communication; it appears as if it is going to stay for the season," said Catherine Zizik, associate professor of communication and founding director of Forensics of the team.
For virtual competitions this season, the team uses a software program called Yaatly, which simulates the nature of in-person competition and creates a synchronous environment where competitors speak in real time. "It allows us to utilize the webcams and microphones on our computers to speak and perform for the judges, and we are able to watch the competitors in our round just as we would in person," said senior and team captain Brian Sumereau.
While synchronous competition can still facilitate some level of team camaraderie, the format poses its challenges too. "There are a few adjustments we have had to make in our performances to accommodate for the online setting," explains Sumereau, "such as having only one focal point instead of scanning the room and keeping the 'environment' we create within the scope of the camera."
Fortunately for Brownson, virtual practices were already the standard for the team. Sam Ohrenberger-Hopkins, head coach of Brownson, accommodates the team members' schedules by holding video chat meetings and coaching sessions. So, the team's transition to virtual competition was facilitated by the familiarity of virtual communication and remote training, according to Zizik.
Training on communication over a virtual format will prove useful as video conferencing and remote communication mediums are establishing themselves as standard in many industries. "Not only does the practice help for competition," explained Zizik, "but students are better equipped for interviews and jobs because of the training and practice conducted for Brownson."
Asynchronous tournaments are also on the horizon, where students would submit a video to be judged. "I want the students to be comfortable with their events before tapping into that competitive realm, probably at the end of the Fall 2020 semester," said Zizik.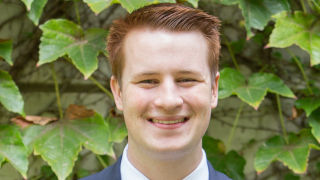 Senior Brian Sumereau serves as Brownson's team captain.
"Much of our success comes from the talented members of the team," Sumereau said. "We have all had to be extremely adaptable, and I'm proud to say that we have successfully overcome many of the challenges that we faced when presented with this notion of competing virtually."
During the opening weekend at College of Southern Idaho's Fran Tanner Open on Sept. 25-26, Brownson Team won 14 awards in 18 events including earning second place as a team out of the 17 schools competing. The competition saw six first place finishes by Seton Hall speakers with Sumereau earning two gold medals in both Persuasive and Informative Speaking. Sophomore Meg Gawron placed first in Extemporaneous Speaking while freshman Olivia McCue took home first place in Prose Interpretation. Junior Sean Keegan also won first place in Informative Speaking.
During the Virginia is for Lovers Fall Swing tournament hosted by James Madison University and George Mason University on Oct. 3-4, the six competing Seton Hall speakers earned second place Team Sweepstakes, only behind a team of 21 students at The University of Texas at Austin. On Oct. 3, Brownson took home 11 awards including a win in Persuasive Speaking for Keegan and a second-place win in Communication Analysis for Sumereau. Brownson earned 11 additional awards the second day of competition including a first place in Persuasive Speaking by sophomore Dan O'Connor.
The following weekend, the Brownson team competed at the Bulldog Forensics Tournament hosted by Concordia University, Nebraska and earned second place Sweepstakes and 18 individual awards on Oct. 10. Junior Dana Bell received second place Overall Speaker in the tournament for her successful performances in several events. Freshman Michael Kosmas also had a notable performance, earning both Top Novice and first place in Open Program Oral Interpretation of Literature.
Seton Hall speakers again triumphed at the Southern and Northern Atlantic Forensics Union (SNAFU) Fall Opener on Oct. 11, winning First Place School. Competing against 20 schools including Bradley University, George Mason University, Eastern Michigan University, Cornell University, Hofstra University, Rice University, University of Wisconsin and University of Northern Iowa, the team attended one of the largest speech and debate events of the fall season. Notable individual wins at this tournament include freshman Safa Shaikh's Top Debate Speaker in International Public Debate, Kosmas' first place in Program Oral Interpretation, and McCue''s third place in Prose. Additionally, junior Emily Feazel brought home four awards from several events.
The Seton Hall Brownson team hosted the Annual Ed Leonard Memorial Speech and Debate Tournament on Saturday, October 24. Dean Deidre Yates kicked off the awards ceremony with a special address to the 14 participating schools. With only freshmen team members competing at the home tournament, Brownson saw Shaikh earn first place in Communication Analysis and third in Debate, as well as Kosmas and McCue earn awards in Impromptu, Impromptu Sales, and Poetry.
At the second fall SNAFU tournament on Oct. 25, Brownson earned 19 individual awards including 5 first place and 4 second place awards. To add to the accolades, Seton Hall earned first place Overall Team, first place Debate School and first place Individual Events school. Keegan earned first place Individual Champion Speaker, as well as winning first in Informative Speaking. Shaikh championed in Debate, and the team also saw noteworthy performances from Feazel, Gawron and Sumereau.
Continuing in its tradition of rhetorical excellence, stemming back over 75 years, Brownson maintains that preparation is still born out of the classroom, not from the competitive arena, in order to develop strong, strategic, empathetic communicators regardless of the format, according Zizik. "Our philosophy as a team has always been to be the best advocates possible, and we have always emphasized coaching with both peers and faculty advisors," Sumereau said. "Thankfully, the integrity and manner in which we strive for greatness has not been lost in this new reality."
Categories: Arts and Culture