Friday, November 22, 2019
Featured by Forbes, Sports Business Daily, The Miami Herald, Ad Age and more, the talk that featured media giants Bob Costas and Bob Ley '76 at Seton Hall was filmed, live produced and broadcast by students of Pirate Sports Network working out of its state-of-the-art production truck.
A retrospective of his storied career, the video introduction of Bob Costas which preceded the talk was created by Keith Egan, a student majoring in Visual and Sound Media in the College of Communication and the Arts.
Guiding Egan on the Costas introduction as executive producers were Bob Ley, a Seton Hall alum who spent nearly 40 years at ESPN in a career filled with awards and acclaim and former Sports Illustrated Executive Editor B.J. Schecter, a professional-in-residence within the College of Communication and the Arts at Seton Hall.
Two student athletes, Ryan McNeilly and Lizzie Win, shared the stage with Costas and Ley, asking questions and offering commentary; two other students, Michael Daly and Ronald Castaneda of the Visual and Sound Media program, competed for and won the chance to interview Costas and Ley before the live audience; student reporters from The Setonian, the school's award-winning newspaper, covered the event.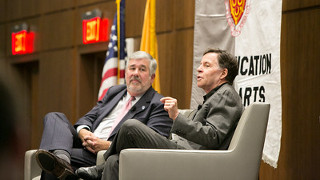 Prior to hosting the event with Costas, Bob Ley was interviewed by students at Seton Hall's award-winning student-run radio station, WSOU.
Ley, who was recently selected for induction to the National Sports Media Association Hall of Fame, got his start in broadcasting as a sportscaster and program director at WSOU.

At the talk, "The Changing Face of Sports Media," Bob Costas advised students who wished to learn sports broadcasting and journalism to "dedicate yourself in the classroom," though noted of the profession that "it's a knack as much as anything else" and "the way you learn to do it is by doing it."
Long known for its emphasis on learning-by-doing or "experiential learning," at Seton Hall Costas was essentially preaching to choir – and a working choir at that, as students had a hand in virtually every aspect of the event's production as well as its coverage and broadcast.
"The Changing Face of Sports Media" covered everything from network politics to Colin Kaepernick, LeBron James, the NBA and China, Muhammad Ali at the Olympics, Twitter and more.
The Miami Herald, one of a number of media outlets that reported on the event (see below for links), noted that
Bob Costas and Bob Ley — probably the two most intelligent, articulate TV sports journalists of our era — sat on a stage inside an auditorium at Seton Hall University in New Jersey on Monday, addressing the state of sports media and other issues with a level of depth and substance that is too often lacking in our business.
The Miami Herald concluded,
Here's a link to the Costas/Ley symposium, which I would recommend; they touched on several other issues not addressed here, including new media, Costas' commentary about the merits of a Redskins name change, important lessons learned in their careers, more on Costas' NBC departure, increased opportunities for women in the industry and Costas' eulogy to Mickey Mantle and more.
"The Changing Face of Sports Media" with Bob Costas and Bob Ley was part of the College of Communication and the Arts' Sports Media Speaker Series, and was co-sponsored by theStillman School of Business. For more information about Sports Media in the College of Communication and the Arts, contact Danielle Clements through email.
Media Highlights:
Forbes, "Bob Costas Tells College Audience Why he Covers Controversies" 
Sports Business Daily, "Bob Costas Addresses Current State of Network Sports TV" 
Darren Rovell, Twitter as a "high-tech version of writing on a bathroom wall at a gas station" 
Miami Herald, "Distinguished journalists Costas, Ley dish on media business, Kaepernick, NBA/China, more" 
Ad Age, "What about Bobs?" 
Breitbart, "Bob Costas: More 'Negative Response' to Kaepernick Than Domestic Abusers, Other Criminals"
The BallZone, "LeBron James, NBA China, Nike Gets Eye-Opening Critique from Bob Costas"
Sports News Bay, "NBA China: Rockets' Daryl Morey Applauded, Adam Silver Aired out by Analyst" 
Categories: Arts and Culture , Business
---
Bob Costas and Bob Ley - The Changing Face of Sports Media