Wednesday, March 13, 2019
Marvel's Black Panther broke multiple box office records in 2018 as the highest-grossing film of the year, securing three Academy Award wins and a nomination for best picture. While movies can be a powerful method of storytelling, College of Communication and the Arts alumnus Todd Steven Burroughs '89 is an expert on Black Panther's original narrative – the comic book.
Burroughs is the author of Marvel's Black Panther: A Comic Book Biography, From Stan Lee to Ta-Nehisi Coates (Diasporic Africa Press), a biography that examines the history of the Black Panther character since its creation by Stan Lee and Jack Kirby to becoming a "Batman-like" archetype influenced by black writers such as Christopher Priest, Reginald Hudlin and Ta-Nehisi Coates. The work has received traction in light of the movie's success, including coverage in multiple media outlets such as The Hill, The Drum, and The Real News.
Perhaps what is most compelling about Burroughs' book is the way it was formed: with a passion for writing and a love for comic books. "I always enjoyed comic books. In fact, I had over five decades of Black Panther comic books sitting in my personal collection," commented Burroughs. "I was actively writing at the time and thinking about the upcoming movie, and then I realized… I had all the primary sources I needed to create a book of this caliber."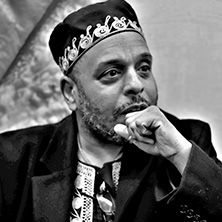 As examined in the book, Black Panther wasn't the same, American mainstream superhero we know today when he was created in 1966. Through the years, white and black writers developed the character alongside changes in American history, producing a variety of personalities from independence leader Patrice Lumumba to political leader and activist Nelson Mandela to the reflective, 21st century character recognized today.
It is through this lens, the development and evolution of the Black Panther character in the hands of different writers and producers, that Burroughs is able to delineate the history of the portrayal of African-Americans in popular culture during the last 50 years and beyond. Because of the current popularity of the Black Panther character, the book has served as a touchstone for many in a dialogue about race, identity and empowerment.
Burroughs recently completed a five-city book tour, traveling across the United States to speak in locations such as Seattle, Washington, Detroit, Michigan, and Brooklyn, New York as well as in his native Newark, New Jersey, and West Orange, New Jersey. But, the book continues to travel in another way – it's being used across the country in college-level courses in a number schools, including Essex County College, Howard University and the University of North Dakota. Burroughs will also serve as the keynote speaker at an upcoming academic conference at Shawnee State University in Portsmouth, Ohio: "Black Panther: Taking Stock of the First African Super Hero at 50."
The author credits his time at Seton Hall University for exposing him to devoted faculty that helped him to grow his capabilities as a writer and black press historian. "I came to Seton Hall as an Upward Bound graduate with dreams of being a journalist. I met [SHU Upward Bound journalism teacher and alumna] Deborah Smith, who wrote for the New Jersey edition of the Afro-American newspaper. She encouraged me to practice my writing, giving me the chance to have a byline in a major newspaper when I was only 17 years old."
Burroughs, a Communication major with a double-concentration in print and broadcast, continued writing for the Afro-American as a freelance writer during his studies and received a scholarship and internship from the National Association of Black Journalists in 1987 and 1988, respectively. However, his career as a black press historian actually started right on campus, noted Burroughs.
Under the guidance of Rev. Dr. Forrest Pritchett–the current director of the Dr. Martin Luther King Jr. Leadership Program—and Deborah Smith, he took on an independent study course during which he spent countless hours studying the history of the Afro-American since its first publication in the early 1890s. The project created a dedication to scholarly work that has followed his career. In his free time, he was also engaged with the Black Student Union, a Martin Luther King Jr. scholar and was a newscaster and sound engineer for WSOU 89.5 FM.
Today, Burroughs has more than 25 years of experience in the news media industry, having written for magazines, such as The Source and ColorLines, and newspapers, including The Star-Ledger. "The faculty in Communication and the Arts laid the foundation for my interest in journalism, from Professor Don McKenna who guided how I understood the responsibility of journalism to Professor James McGlone who taught me about mass communication," said Burroughs.
Currently, he is writing a journalistic biography of imprisoned journalist Mumia Abu-Jamal and planning a monograph of black journalist Gil Noble and his public affairs program, WABC-TV's Like It Is.
For more information about Marvel's Black Panther: A Comic Book Biography, From Stan Lee to Ta-Nehisi Coates, please visit the book's Amazon listing »
For more information about the Journalism program, please contact Associate Dean Thomas Rondinella at thomas.rondinella@shu.edu.
The author of this feature, Olivia Lason '17, is a Public Relations alumna from the College of Communication and the Arts, currently working toward an M.A. in Public Relations.
Categories: Alumni , Arts and Culture