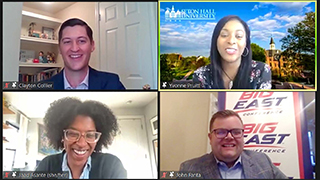 Alumni from the College of Communication and the Arts participated in a virtual panel discussion about how the pandemic affected the performing arts and production industries. Clockwise from top left: Clayton Collier '16 , Yvonne Pruitt '18, John Fanta '17 and Jaad Asante '12.
Staying connected with our Seton Hall alumni has been even more important during the pandemic. To keep our alumni engaged, the College of Communication and the Arts and the Department of Alumni Engagement and Philanthropy co-hosted a virtual panel discussion "Performing Arts and Production in a Pandemic" on April 27. Moderated by Deirdre Yates, M.F.A., Founding Dean of the College of Communication and the Arts, the panel of CommArts Alumni discussed how their education prepared them for working during the pandemic, how the shift impacted their work in the performing arts and production fields, and what they have learned about themselves.
Alumni panelists included:
Journalism major, visual and sound media minor John Fanta '17 – On-Air Personality, BIG EAST Conference
Visual and Sound Media major Jaad Asante '12 – Filmmaker Engagement Manager, Chicken & Egg Pictures;
Journalism major Clayton Collier '16 – Sports Reporter/Anchor, WATN-TV ABC Local 24 Memphis, Tennessee; and
Theatre major, with media studies and public relations minors, Yvonne Pruitt '18 – Actor, virtual host for corporations
During the event, all of the panelists acknowledged that what they learned and experienced while at Seton Hall helped prepare them for what they encountered during the pandemic.
Collier recalled how he made sure he took part in as many things as possible while at the University. "I wanted to have as many options in my utility belt as possible," he said. "Something I learned while working at WSOU 89.5 FM was there could be tech issues, there could be a call. Thinking on the fly and having a little-engine-that-could mentality is something that is ingrained in you at Seton Hall - be that person who's going to grind and find whatever you can to get to that solution."
He added, "Personally, this mentality helped carry me through what's been a challenging year."
If anyone knew Pruitt while at Seton Hall, she said that they would report she never turned away from an opportunity offered to her. "I was just ready to say yes to almost anything. Networking was just such a huge thing." During the pandemic, Yvonne was contacted to get involved with virtual event hosting for corporations. "Now I ended up with this whole new career path that I didn't even know that I would be interested in; it wasn't even on my radar," she said.
Pruitt recently decided to move to Atlanta part-time and was still offered work "because of how much I had networked and how much I was committed to my craft. If Seton Hall's College Communication and the Arts taught me anything, it was to network, network, network," she added.
Asante agreed with Pruitt, adding that Seton Hall emphasized the importance of having experience outside of your academic curriculum. "When I was at Seton Hall, I completed several internships, one in where I helped support a working documentary filmmaker in New York City as he put together his next project, and I still have those connections," she said. "What you'll find is that the world is way smaller than we think, especially in New York and in the communication filed. Being able to carry those connections through the rest of your career definitely comes in handy."
Fanta emphasized that networking starts on campus, "especially when there are successful professionals who have been in the industry — people who have produced TV, people who have written for major publications who are willing to connect you to avenues to find opportunities," he said, adding, "That's what makes a Seton Hall education different from others."
He also recalled there was the mentality of "paying it forward" to someone else when the time comes. "There is a connection between the present students and the alumni that is so powerful; it instills a confidence in you when you're a student," he said. Fanta recently had that opportunity to pay it forward when he was asked to speak to one of Professional-in-Residence B.J. Schecter's pre-college summer class. Schecter, an attendee at the virtual event, relayed a story about how a student who was ready to enroll in another school changed his mind after he heard Fanta in class. "This student sent me a note which said after he heard John speak about all the opportunities that he made for himself while at the University, he decided to come to Seton Hall," said Schecter.
These CommArts alumni got a chance to also learn more about themselves during the pandemic. "In my new job, we do a lot of programming for filmmakers and the energy that you have in the room is not easily replicable in the virtual world," said Asante. "But there are ways to pump the people up — you just have to reach into your toolbox and figure out how to get the job done."
Pruitt reflected on her first improv class at Seton Hall. "I learned then that it's ok not to know everything and to make a fool of yourself and have fun — as long as you're serving your own purpose," she said. "You try to figure out what serves your purpose — what do you enjoy doing outside of performing — then you realize how creative and resilient artists are because here I am doing virtual shows and readings.
When asked by Dean Yates which positive outcomes are going to remain following the pandemic, Fanta shared how his team works together, "I got an even deeper appreciation for what my colleagues do because, as a result of everything that happened, we were all picking up the pieces in in different areas," he said. "Were there more chefs in the kitchen? Perhaps, but i think what Covid-19 taught us is that we could never have enough chefs in the kitchen."
In Collier's perspective, he felt that the public is getting more used to seeing a video chat now, which gives him more options to report on. "Over the last year, every time the local university signs a recruit I reach out to the student-athlete and we put them on the air, talking about why they're excited," he said. "That's not something that we typically we did before, but now it's something that's more accepted from the general audience."
The personal connections she has made impacted Pruitt quite a bit. "One of the things that I've loved most about the shift from being in-person to being virtual is that I've been able to interact with more people, and with different types of I never would have known unless this pandemic hadn't happened," she said, adding, "I'm a people person so this is, like, my jam."
After much discussion, Dean Yates concluded the discussion with closing remarks and a final point by John Fanta, "There's not a day that goes by where we all don't think about our time at the University and how it's helped us to whatever points we are at now. "In a lot of ways, your career starts on the campus of Seton Hall — and it goes beyond just a curriculum experience."
About the College of Communication and the Arts
Seton Hall University's College of Communication and the Arts offers diverse, flexible undergraduate programs anchored in the humanities, featuring cutting-edge technology and innovative curricula, and provides opportunities for meaningful collaboration across disciplines. Students can explore emerging technologies as well as learn from industry professionals about the latest trends in the ongoing digital revolution that is affecting communication and arts' industries. For more information about the College's undergraduate programs, please contact Amanda Carcione.
The College also offers graduate-level programs in Museum Professions and Communication, including the opportunity to pursue a unique area of study, including options in Public Relations, Digital Communication/Communication Technologies, and Communication in Organizations. In addition, four dual-degree options, including three accelerated master's/B.A. programs and a dual M.A. degree with the School of Diplomacy and International Relations are offered. For more information about Graduate Studies within the College of Communication and the Arts, please contact Ryan Hudes, Ph.D.
Categories: Alumni , Arts and Culture , Education