Thursday, October 14, 2021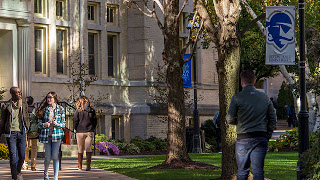 The Graduate Studies within the College of Communication and the Arts welcomed Wilnir Louis, Laila Melhem, Christina Grieco, Simone Robinson and Emily Rainbolt as this year's team of graduate assistants. Each member of the team brings unique experiences to Seton Hall and hopes to actualize their personal and professional goals at the University.
Wilnir Louis, B.A. '21/M.A. '23
Wilnir Louis is a student in the M.A. in Communications program in the Digital Communications and Communication Technologies track. Louis, a native of Linden, New Jersey, also attended Seton Hall for his undergraduate degree, a B.S. in Business Administration which he received in spring 2021. "I chose to come back to Seton Hall for my graduate degree as well because there was so much that the community offered me during my undergraduate studies. I felt like I still had more to do to essentially repay the community and do whatever I can to also be a key contributor in the community, helping other Setonians feel as welcomed as I did and to be able to provide them opportunities as well," said Louis.
As an undergraduate, Louis was very involved in campus life working with WSOU 89.5 FM, Pirate Television, the Pirate Sports Network, the Sports Networking Student Association, Black Men of Standard and at the University Center as a student worker. He plans to continue to be actively involved in campus life during his graduate career.
Once he has completed his master's, Louis plans to continue working in the sports media field. "I have experience being an on-air talent, being a producer, working cameras, making graphics, cutting audio and everything else under the sun. I just want to be able to use my talents and skills in a setting where I feel like I'm being utilized properly."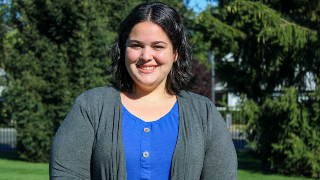 Laila Melhem, B.A. '21/M.A. '23
Hailing from Lyndhurst, New Jersey, is Laila Melhem who, like Louis, attended Seton Hall for her undergraduate studies and chose to continue her graduate education at the University. Melhem, a student in the M.A. in Museum Professions program, knew that Seton Hall was a good fit for her. "I always loved how at home I felt at Seton Hall, the four years I spent here in undergrad were amazing. I met so many lifelong friends and I always loved the sense of community here. I also had great experiences with my professors and advisors, I always felt like I had guidance and support."
Melhem graduated in spring 2021, receiving her B.A. in History with a minor in English. Even as an undergraduate, she knew she was interested in pursuing Museum Professions. "I had planned to apply for the Museum Professions program since I started undergrad, and I believed a history degree would help succeed me in the museum field." Melhem hopes to pursue a career at a history museum once she has completed her graduate education and may continue her education in history.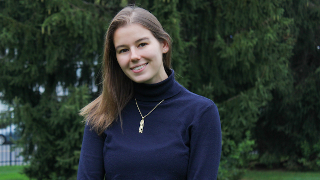 Christina Grieco, M.A. '23
Christina Grieco, a native of Dumont, New Jersey, is the third master's student joining the graduate assistant team this year and is pursuing an M.A. in Museum Professions. Grieco completed her undergraduate studies at nearby Montclair State University in spring 2021 with a bachelor's degree in History, Classical Studies and Latin. Pursuing a career in Museum Professions was a clear choice for Grieco. "I pursued this area of study to combine my love of history, design, and education to bring artistic vision and inclusive, historically insightful structure to the field." Grieco is also interested in architecture, design history and the development of public parks.
In addition to her work as a graduate assistant, Grieco currently works for two major custom builders. She also has experience in project management, design and interior photography. A self-starter, Grieco has plans to eventually start her own business. "Long term I would like to open my own consulting company for museums to outsource and create a team of professionals."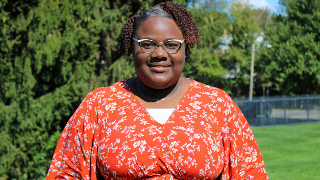 Simone Robinson, Ph.D. '27
Simone Robinson joins the Communication and the Arts graduate assistant team as a Ph.D. student studying Counseling Psychology. Robinson is an international student from Jamaica. She first came to the United States to pursue her education in 2015, attending Saint Elizabeth University in Morristown. Robinson received her B.A. in Psychology with a minor in Communication in 2019 and her M.A. in Counseling Psychology in 2020, both from Saint Elizabeth. Robinson has experience as a research assistant, graduate counselor, an adjunct professor of psychology and a behavioral case worker.
"Catalytic to my interest in the field is my empathetic orientation, and fervent desire to actualize a career identifiable amongst the helping professions. Once my awareness met psychology and counseling, I made the conscious decision to embark on a trajectory that would lead me to become a licensed psychologist, researcher and academician," Robinson explained. She is ultimately interested in clinical work while continuing to contribute to the field through research.
Robinson was initially drawn to the program at Seton Hall because of the University's Catholic mission, and her interview experience solidified her decision to join the program. "The questions in the interview were more focused on assessing who you are, what primes you toward success, and how you viewed yourself in relation to others. That was when I knew that my ability to actualize as a psychologist, researcher and academician would be best nurtured at Seton Hall," Robinson stated.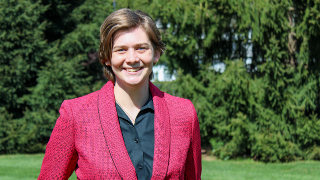 Emily Rainbolt, M.A. '23
Stemming from Melbourne, Florida, is Emily Rainbolt, the final addition to the graduate assistant team. Rainbolt graduated from the University of Florida with a B.A. in Art History in 2018 and has since completed an internship in the Harn Museum in Gainsville, Florida, where her interest in the museum field matured. Her field experience ignited her desire for a career within the discipline, leading her on a path to furthering her education and expanding her scope of expertise. In her search for graduate programs, she was led to the Northeast, where Seton Hall soon became her new academic home. "After graduating from the University of Florida and completing my internship, I knew I wanted to pursue Museum Studies as a discipline. I also knew there would be fewer opportunities for internships and hands-on experience in the Southeast compared to the Northeast," said Rainbolt. "I researched graduate programs and I focused on those which offered comprehensive, collections-centered tracks, as it's my area of interest. I ended up applying to four programs across the East Coast, and Seton Hall seemed the most in-line with my values and goals." After graduating from the M.A. in Museum Professions program, Rainbolt hopes to pursue a career as a registrar/collections steward where she will function to preserve and promote access to curated pieces for future generations to come.
As a team, the Graduate Assistants support the planning and execution of student outreach initiatives, which involve event, communication and operational plans. The Graduate Assistants also work to promote and enhance Graduate Studies Department and the broader College through news and feature stories, social media posts, website management, and admission and recruitment efforts.
Each academic year, Graduate Studies within the College offers a limited number of assistantships for graduate students. In these positions, students are afforded tuition remission whilst further developing professional competencies through exposure in the operational and administrative realms of Communication and the Arts.
Categories: Campus Life , Education