Pirate Families Celebrate Their Favorite Graduates
Parents, sisters, brothers, grandparents, aunts, uncles, cousins. They have been with you every step of the way. Now it's their turn to tell you how proud they really are.

We received an incredible amount of videos from families congratulating their graduates, many of which have been compiled here. We are also sharing on our social channels - Facebook, Instagram, Twitter, and LinkedIn - so be sure to take a looking. Visit our showcase page to see parent videos.
---
"To all of Pirate Nation: It's time to celebrate. Wishing you nothing but success."
---
"Great job! Congratulations on your wonderful accomplishments. It's awesome to see how far you've come."
---
"Congratulations Seton Hall graduates. You did it! Let's celebrate together!"
---
"Great job graduates! Keep up the good work!"
"Wishing everyone a happy graduation. We are so proud of all the work you've done and your success in school."
---
"Work hard. Dream Big. Follow Your Heart! You did it! This is just the beginning. The best is yet to come. "
---
"Always proud of you. You have made us very proud. We Love You! Go Pirates!"
---
Dear Mom and Dad. From the Class of 2020 to their families, messages of gratitude and love. Open in full screen.
---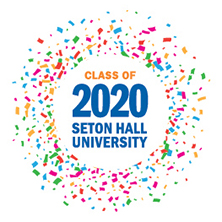 A Time to Reflect – A Week to Celebrate
After several amazing years of hard work and good times, all of Setonia stands together in this historic moment to congratulate the Class of 2020.
Graduates, take pride in what you've accomplished as you join the ranks of over 100,000 alumni worldwide. We are Seton Hall -- and we are cheering you on as you continue your life journey.