Presenting the Class of 2020: Hazard Zet Forward
Graduating amid the pandemic – the Class of 2020 is fearless, accomplished and determined to have an impact on the world. Quite simply, they are #SetonHallStrong
---
We made it! Setonians celebrate lifelong friendships, cherished memories and the pure joy of being a Pirate!
---
Students share their messages of gratitude to the family, friends and professors who made the last four years possible. "We couldn't have done it with you."
"From the greatest professors to the best of friends." Congrats to the Class of 2020, we did it together.
---
Dear Mom and Dad. From the Class of 2020 to their families, messages of gratitude and love. Open in full screen.
---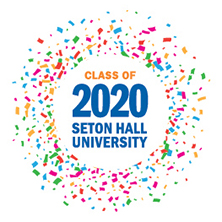 A Time to Reflect – A Week to Celebrate
After several amazing years of hard work and good times, all of Setonia stands together in this historic moment to congratulate the Class of 2020.
Graduates, take pride in what you've accomplished as you join the ranks of over 100,000 alumni worldwide. We are Seton Hall -- and we are cheering you on as you continue your life journey.