Graduation Cap Decorating Contest
2020 Cap Contest Winners
Congratulations to the Class of 2020 Commencement Cap Contest winners!
Contest Details
Do you think that your graduation cap is the best decorated? Well now is your chance to prove it!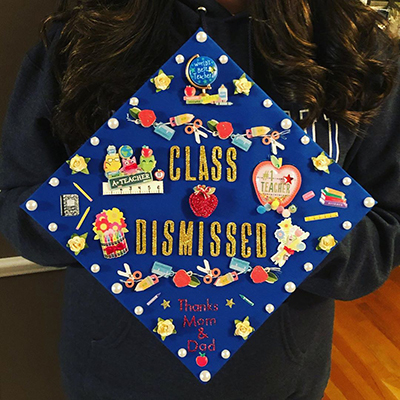 Enter the Seton Hall 2020 Graduation Cap Decorating Contest for a chance to win a $50 gift certificate to the University Bookstore.
Steps to enter the contest:
Decorate your graduation cap
Post a picture of your cap on Instagram
Tag picture with #SetonHall2020
The graduation cap with the most likes will win.
Contest Rules
Entries will be accepted online starting on May 13, 3 p.m. (ET) until May 26, 10 a.m. (ET). The design with the most community votes will be chosen and notified via email.
This contest is only open to Seton Hall students. Each entry will be approved by Seton Hall University's Social Media team to ensure the content is relevant.
Each entry must meet the following requirements:
Participant is graduating in 2020 and is a Seton Hall student student.
Your entry is an original work.
Must be a picture of a graduation cap design. Design must be clearly visible.
No profanities/discriminatory words in the caption or in the design.
The graduation cap design with the most votes will win the contest. Entries are sorted randomly on the voting platform. Each person is only allowed to vote once per 24-hour cycle. Winners will be notified via email within two days following selection.  The winner with the most likes will win a $50 gift certificate. 
The entry must fulfill all contest requirements, as specified, to be eligible to win the prize. Entries that are incomplete or do not adhere to the rules or specifications may be disqualified. You may enter only once. You must provide the information requested. You may not enter more times than indicated by using multiple email addresses, identities, or devices. If you do so, your submission may be removed from eligibility. Seton Hall University reserves the right to disqualify any individual who tampers with the entry process and the right to remove entries that violate University standards.
By participating, you agree to be fully unconditionally bound by these rules.