Wednesday, February 12, 2020
On January 14, the Walsh Gallery opened "Gregory Coates: Sheer Audacity," a show featuring paintings and sculpture created by world renowned artist Gregory Coates. Coates is a Social Abstraction artist who uses repurposed materials to create work that although abstracted, still allows viewers to form a personal connection based on their own experiences. Jeanne Brasile, M.A. '04, an alumna from the Museum Professions program, and Walsh Gallery director, curated "Gregory Coates: Sheer Audacity" to showcase Coates' unique art style and inspiring world view.
"Gregory Coates: Sheer Audacity" uses art to show appreciation for the women in Coates' life. He features work that captures their individual personalities and explores their femininity. Brasile curated the show to not only honor Coates' intentions, but also to show elements of his personality that Brasile has come to know and admire since meeting him. The title alone, "Sheer Audacity," is an ode to Coates' unique and uplifting way of viewing the world, his art, and himself.
"'Sheer Audacity" is about Greg's audacity to be himself, and how he encourages people to do the same," Brasile said.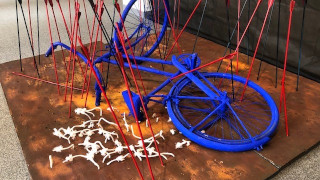 Gregory Coates, "Shooting the Messenger," 2019
Born and raised in Washington D.C., Coates worked to become an internationally renowned artist who uses ingenious artistic methods stemming from intense historical study of previous artists and art methodologies, to create paintings and sculpture that reference social issues and play on the personal perspectives of viewers. Coates' work has been shown and acquired by several prestigious institutions, such as the Smithsonian National Museum of African American History and Culture, the Pennsylvania Academy of Fine Art, and the Studio Museum in Harlem. After a residency in South Africa, Coates decided to create art only using repurposed materials after witnessing the wastefulness of people.
"It was a great opportunity to bring a world renowned artist like Gregory to Seton Hall because his art taps into current initiatives of the College like diversity, decolonization, collections, and exhibitions; but it was also a great responsibility to give his art the respect it deserves in this show," says Brasile. "It is an amazing opportunity for students to learn from such an inspiring and talented artist."
Brasile stated that Coates' positive outlook and advice inspires her daily, and he is someone that students and visitors should learn from, especially those in the art and museum fields. "Gregory is someone that is not afraid to fail, he believes that if you're not failing, then you're not learning. It's beneficial to take chances and to fail occasionally, those are only moments of opportunity," she says. "I think that he is someone important to learn from, especially for young people. Greg shows that failed attempts at perfection are just as valuable and important as the finished product, and that philosophy has taught me a lot."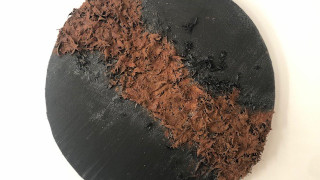 Gregory Coates, "Spring Sounds (Tobasco Series)," 2018
"Sheer Audacity" features a combination of painting and sculpture that utilizes unique artistic mediums like feathers, paint, repurposed wood, handbags, raw materials, and even a shopping cart. The show's array of vibrant colors, often created using a 3D effect, make visitors study each object closely while also paying homage to prominent art figures that inspire Coates. In one piece titled: "Shooting the Messenger," the viewer is required to apply their own view of a piece that has multiple interpretations. The strategic placement of blue and red paint may imply political meaning to some, where to others, the meaning of the idiom "shoot the messenger" may imply a different connotation. Other pieces in the show requires similar attention from visitors, demonstrating Coates' talent of creating art that is personal to him but somehow also personal to viewers based on their own perception.
Since Coates' practices social abstraction art, many of his pieces follow similar structure. On the opening wall of the gallery, the pieces titled "Seeing Red #1-3 (Afro Series)," made with vibrant and textured red paint over an array of feathers stuck to the wooden base, almost appear to be flowers from afar. These pieces are meant to represent femininity and how a circle represents the female form or symbolizes creation. Coates stated that although this is the context he placed on the work, he believes that his art should take on the context that the viewer gives it based on their own personal experience.
With this explanation of his piece, Coates also offered advice that he hopes young adults in particular take from his art, "Take yourself on a limb and be who you are, it's important to me that you do that and be yourself. Don't compromise yourself for someone else; do that out of respect for yourself and your relationships with other people. Make what you want, say what you feel, and own it."
Asya Robinson, a M.A. candidate in the Communication graduate program thought the show was unlike any art exhibition she has been to. "The entire exhibition was eye-catching and captivating because of the vibrant colors and textures. As someone who does not study art or museum professions, I was still drawn to the exhibit and was touched by the meaning behind the pieces," she said. "I was especially touched by the handbag series. They were a reminder that femininity is not always clean and polished, sometimes it's about doing what it takes to take care of your family."
"Gregory Coates: Sheer Audacity" is open at the Walsh Gallery from January 13 until March 6, 2020. The Gallery is open from 10:30 until 4:30, Monday through Friday. Associated programs include a Wikithon on February 23, 2020, in the Beck Room across from the gallery from 11:00 - 3:00 p.m., and a panel discussion moderated by Atim Oton from the Calabar Gallery in Harlem, on February 20, 2020, at the Walsh Gallery from 6:30-9:00 p.m. For more information, please visit the Walsh Gallery website.
The M.A. in Museum Professions is designed for individuals interested in pursuing careers in museums or related cultural institutions. Students in the program select one of four professional tracks, including Education, Registration, Management and Exhibition Development.
The College of Communication and the Arts currently offers three graduate-level programs, including Museum Professions, Communication, and Public Relations. In addition, four dual-degree options, including three accelerated B.A./M.A. programs and a dual M.A. degree with the School of Diplomacy and International Relations are offered.
For more information about Graduate Studies within the College of Communication and the Arts, please contact Ryan Hudes, Ph.D.
Categories: Arts and Culture