Monday, February 15, 2021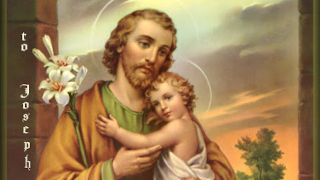 The Department of Catholic Studies proudly present the annual Archbishop John J. Myers Lecture Series on Law, Society and Faith. This year's series, whose theme is "The Year of St. Joseph," will highlight the ways in which this Patron of the Universal Church, though silent in Scripture, can enrich our faith, understanding, and commitment to living Christian values in our world.
This annual lecture series is a tribute to His Grace, The Most Reverend John J. Myers, fifth Archbishop of Newark, for his faithful and steadfast promotion of our Catholic mission and the continued leadership and guidance he gave to Seton Hall University. All events in this year's series, which will take place on Zoom, are free of charge and open to the public.
Archbishop Myers had a special devotion to St. Joseph, recognizing the influence of St. Joseph's virtue on Jesus' own human development. In his homily at the Men's Commission Mass on March 5, 2016 at Seton Hall University, Archbishop Myers remarked: "As a good father, St. Joseph taught his virtue to Jesus. A just man, obedient to the law and humble before God, he taught Jesus these and other human virtues. Thus, when Christ matured, not only was His Heavenly Father revealed, but also something of St. Joseph's own virtue."
While the theme of this year's series pays tribute to Archbishop Myers' devotion to St. Joseph, more generally it emphasizes the Year of St. Joseph, which Pope Francis proclaimed through his Apostolic Letter "Patris Corde." In this pandemic year, as Pope Francis has noted, the silent work and faithfulness of so many millions of people are the saving graces to those who suffer. It is in this spirit that this year's reflection on Saint Joseph—in both the Universal Church and the lecture series—is intended to provide a gateway for understanding and appreciating the ways in which work in the family and in society at large can be our way of participating in God's work of creation and healing.
Panel Discussion, "Celebrating St. Joseph"
The first event in this year's series will be a panel discussion, titled "Celebrating St. Joseph," on February 18, 2021, at 5:30 p.m. The discussion, moderated by Dr. Ines Murzaku, Professor and Director of Catholic Studies Program, will be available here. Panelists will explore St. Joseph's faithfulness in his everyday life and fulfillment of his commitments as a path to sanctity.
Rev. Frederick L. Miller, S.T.D., Adjunct Professor of Systematic Theology at Immaculate Conception Seminary School of Theology and Spiritual Director of The College Seminary of the Immaculate Conception at St. Andrew's Hall, will consider the Church's teaching on Mary's Perpetual Virginity in light the true matrimonial bond of Mary and Joseph. This will prompt us to consider the role of the Holy Spirit who strengthened Joseph in his chaste marital love for Mary and filled him with a real paternal love for Jesus.
Very Rev. Fr. Aziz H. Hadod, Pastor of St. Gabriel Syriac Orthodox Church in Haworth, NJ, will explore the Syriac Orthodox Church's view of St. Joseph's role as God's chosen protector of the Virgin Mary, explaining how St. Joseph is a spiritual role model whose unwavering faith in the Lord is worthy of emulation.
Jeffrey Morrow, Ph.D., Professor of Undergraduate Theology at Immaculate Conception Seminary School of Theology, will present a theological look at Pope Francis' recent Apostolic Letter "Patris Corde," focusing on St. Joseph's fatherhood and the sanctification of labor and ordinary life.
Lecture By Dr. Mike Aquilina
Remaining events in this year's series include a lecture by Dr. Mike Aquilina on March 18 at 5:30 p.m. St. Joseph and His Work: He is known to history and devotion as "The Worker." This talk explores the attitudes toward manual labor in his day, the conditions of real workers in his trade, and what that should mean for all of us today who labor and are burdened.
Virtual tour of St. Joseph Shrine
Virtual tour of St. Joseph Shrine in Stirling, NJ, on April 19 at 5:30 p.m., led by Fr. Dennis Berry, S.T., the Director of the Shrine.
The events are co-sponsored by Priests' Community, Campus Ministry and the University CORE and the Center for Catholic Studies.
About Catholic Studies:
The Catholic Studies program at Seton Hall University offers an innovative, interdisciplinary curriculum for students of any creed who are interested in deepening their knowledge of Catholicism's rich intellectual tradition and living heritage. Combining the study of history, philosophy, theology, literature, art, sociology, and other disciplines, Catholic Studies focuses on the Church's dialogue with culture and encounter with the world. Students interested in Catholic Studies have the option to pursue a major, minor, or certificate that complements and enhances the university's other degree programs and fields of study. Over 20 years the academic program and its variegated activities have stayed true to and fulfilled the Catholic mission and vision of the University. For more information, please contact Dr. Ines Murzaku at Ines.Murzaku@shu.edu or (973) 275-2808, and Gloria Aroneo at Gloria.Aroneo@shu.edu or (973) 275-2808.
Categories: Faith and Service