Thursday, January 14, 2021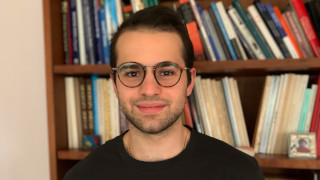 In February 2021, John Murzaku, a Mathematics Major and Catholic Studies minor, will start a five-year Ph.D. program in Computer Science at Stony Brook University in Long Island, one of the top ranked research programs in Computer Science in the nation. John was offered full tuition funding and a competitive research assistant position with a yearly stipend.

Additionally, Stony Brook Computer Science is a top program in mobile computing and systems. John's Ph.D. advisor is Dr. Shubham Jain, an expert on wearable health cyber-physical systems. John will be working on mobile computing and embedded systems, specifically applied to wearable health. John's main interests are in data science and data visualization, and in applying them to wearable health and perhaps even smart cities. He was offered full tuition funding and a competitive research assistant position with a yearly stipend, so this opportunity is excellent!

We asked John to explain in his own words how Seton Hall Mathematics and Catholic Studies helped him get into such a highly competitive program:
When I began the application process for graduate schools, I found that my education and unique experiences at Seton Hall are what truly made me stand out. The support and mentorship from Dr. John Saccoman, Fr. Joseph Laracy, Dr. Thomas Marlow and Dr. Nathan Khan from the Mathematics Department have been incredible. Dr. Tin-Chun Chu introduced me to research and publishing when I was a freshman, which was extremely beneficial for my path. Dr. Puya Ghazizadeh also introduced me to Computer Science research. The foundational mathematical skills I learned from my Mathematics department are what really made my application stand out.
When it came to Catholic Studies, my undergraduate profile showed a lot of breadth and a different world views compared to other applicants. I had some very unique courses in my portfolio which combined Faith and Science in a unique way. Catholic Studies made me think differently, see math and science in a totally new lens, and be a unique applicant. In the end, it worked! I got into 6/6 of the programs I applied to with full tuition funding and a yearly stipend. Catholic Studies was perfect for enhancing my knowledge and connecting it to philosophy, religion, sociology, and the bigger picture of our world. Catholic Studies professors Fr. Joseph Laracy, Dr. Anthony Haynor, Dr. Christopher Kaiser, Fr. Gerry Buonopane and Gloria Aroneo provide tons of support to every student.
What do you have to say to other Mathematics/science and Catholic Studies students?
Take as many interesting courses as you can, get introduced to research as soon as possible (ideally freshman year), and find courses that supplement and enhance your major. Go for the double major, add minors to your portfolio. Talk about these diverse experiences and courses you took that stand out or that link science and faith or faith and reason. Graduate schools are looking out for thinkers even in the sciences and Seton Hall offers amazing research opportunities in sciences and has many excellent courses available.

Are you planning to work in industry or academia?
During graduate school, I would love to intern in industry as a researcher. However, in the long run, I am interested in academia and having my own research lab.

Would you be willing to mentor other SHU students who want to follow your path?
I would love to! I am here for any Pirates who have questions or would like to follow in my path or to participate in open houses. I also highly suggest talking to professors in freshmen year. Dr. John Saccoman and Dr. Tin-Chun Chu have been my mentor since the start. Both of them helped me navigate the application system to graduate school and they are truly amazing. Go Pirates!
Categories: Arts and Culture , Education , Faith and Service