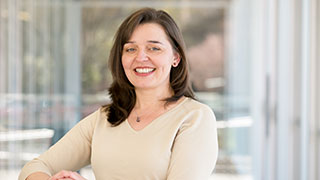 As Holocaust Remembrance Day draws near, Adjunct Professor of Catholic Studies and Jewish-Christian Studies Monika Rice will soon host a book talk and signing event for her book about the tragic aftermath facing Jewish survivors of the Holocaust.
The event will be hosted by the Center for Holocaust, Human Rights & Genocide Education (Chhange) at Brookdale Community College, Lincroft Campus, at 7 p.m., on Thursday, January 25, 2018.
Rice's book, "What! Still Alive?!" Jewish Survivors in Poland and Israel Remember Homecoming, explores the complex homecoming Polish Jews faced. Rice studies testimony of Jewish survivors and delivers their intricate history. She also studies the transformation of survivors' memories from the initial account after their return to Poland and subsequent accounts, recorded at Yad Vashem in Jerusalem, Israel, between 1955 and 1970.
Rice earned her Ph.D. in Near Eastern and Judaic Studies at Brandeis University and her M.A. and B.A. in Cultural Anthropology at the Adam Mickiewicz University in Poland. She teaches courses in Catholic Studies and Jewish-Christian Studies, including Catholic-Jewish Dialogue on the Holocaust: A Catholic Perspective and Modern Women of Faith.
Holocaust Remembrance Day is designated by the United Nations General Assembly and commemorated every year on January 27 to honor the victims of the Nazi era on the anniversary of the liberation of the Auschwitz-Birkenau camp. On this annual day of commemoration, the UN has urged every member state to honor and to develop educational programs to help prevent future genocides.
Chhange fulfills that obligation through year-round programming dedicated to educating the public about the Holocaust, human rights, and genocide; and promotes the elimination of all forms of prejudice.
This event, held in the Student Learning Center in the Twin Lights I & II rooms, is free to Chhange members as well as Brookdale students and faculty. Admission for community members is $10. Rice's book will be for sale and a book signing will follow.
Those interested in the event can register at the event's webpage. Questions about the event can be directed to Nicole Rizzuto at (732) 224-2616 or by email at nicole.rizzuto@chhange.org.
Categories: Faith and Service