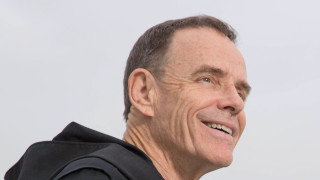 Catholic Studies Program, the Center for Faculty Development, and the Diversity Coalition at Seton Hall University invite you to "Mending America's Original Sin" by Fr. Edwin D. Leahy, O.S.B. Friday, October 23 at 10 a.m. Join Zoom Meeting by clicking here.
Fr. Edwin Leahy's O.S.B., lecture will focus on racism, diversity and inclusion from his perspective as a white monk serving his black and brown neighbors in and around Newark for nearly 48 years. Giving young men and (now) women a voice, allowing them to lead, and instilling a deep sense of community has produced generations of Benedict's Men of all races and creeds. Now St. Benedict's has expanded its circle of diversity to include young women in its first-ever Girls Division. Join Fr. Ed as he shares how The Rule of St. Benedict guides the school's success.

Fr. Edwin D. Leahy is the headmaster of St. Benedict's Preparatory School in Newark, New Jersey. St. Benedict's prepares boys and girls in and around Newark to fulfill their potential as emotionally mature, morally responsible and well-educated citizens. Operated by the Benedictine Monks of Newark Abbey since 1868, St. Benedict's offers a rigorous curriculum that sharpens the mind, shapes character and nourishes the spirit.

This event is free and open to the public.
About Catholic Studies:
The Catholic Studies program at Seton Hall University offers an innovative, interdisciplinary curriculum for students of any creed who are interested in deepening their knowledge of Catholicism's rich intellectual tradition and living heritage. Combining the study of history, philosophy, theology, literature, art, sociology, and other disciplines, Catholic Studies focuses on the Church's dialogue with culture and encounter with the world. Students interested in Catholic Studies have the option to pursue a major, minor, or certificate that complements and enhances the university's other degree programs and fields of study. Over 20 years the academic program and its variegated activities have stayed true to and fulfilled the Catholic mission and vision of the University. For more information, please contact Dr. Ines Murzaku at Ines.Murzaku@shu.edu or (973) 275-2808, and Gloria Aroneo at Gloria.Aroneo@shu.edu or (973) 275-2808.
About Center for Faculty Development:
The Seton Hall University Center for Faculty Development provides services and programs that meet the needs of faculty in the areas of teaching, service, and scholarship over the course of their career at the university. In addition to supporting existing programs offered by departments and schools/colleges, it offers complementary resources and workshops in such areas as scholarly writing, instructional best practices, and work/life balance.
Categories: Faith and Service