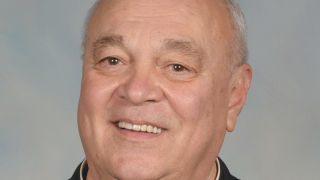 The Catholic Studies program at Seton Hall University is pleased to invite you to the Fifth Annual Monsignor James Cafone S.T.D. Memorial Lecture, featuring Sara Pecknold, Ph.D., "The Merciful Doctor": Devotion to the Most Precious Blood of Christ in Seventeenth-Century Venice". This event will take place on Tuesday, April 2, 2019, at 3:00 p.m., in the Chancellor's Suite, University Center.
About the Lecture:
In 1610, the secretary of San Marco, Monsignor Giovanni Tiepolo, published a devotional treatise comprising several meditations on the Passion of Christ. The lecture will examine Eucharistic music—especially the new genre of the highly emotionally-charged solo motet—composed by such musicians as Alessandro Grandi and Claudio Monteverdi, as well as others working at San Marco in Venice in the first few decades of the 1600. The lecture will explore how this musical repertory resonates with Tiepolo's treatise, as well as with contemporary devotional practices. What will emerge from the lecture is a picture of Venice as a city whose communal life is grounded in shared religious practices; the most important of these practices was the public veneration of the Passion of Christ, made manifest in the Eucharist.
Sara Pecknold, Ph.D. is an assistant professor of Music at The Catholic University of America with special specialization in Sacred Music. She holds a Ph.D. in Musicology with a minor in Vocal Performance from The Catholic University of America, as well as an M.M. in Vocal Pedagogy. Her research interests include medieval and early modern sacred music, devotional and liturgical intertextuality, music and hagiography, and women composers of sacred music. Her article, "Relics, Processions, and the Sounding of Affections: Barbara Strozzi, the Archduchess of Innsbruck, and Saint Anthony of Padua," appeared in the Yale Journal of Music and Religion in 2016. Her current projects concern devotion to the Most Precious Blood of Christ in early modern Europe and the reception of the writings of Saint Bridget of Sweden in seventeenth-century Venice.
This lecture is co-sponsored by the Departments of Religion and the University CORE.
About Catholic Studies:
The Catholic Studies Program at Seton Hall University offers an innovative, interdisciplinary curriculum for students of any creed who are interested in deepening their knowledge of Catholicism's rich intellectual tradition and living heritage. Combining the study of history, philosophy, theology, literature, art, sociology, and other disciplines, Catholic Studies focuses on the church's dialogue with culture and encounter with the world. Students interested in Catholic Studies have the option to pursue a major, minor, or certificate that complements and enhances the university's other degree programs and fields of study. For over 20 years the academic program and its variegated activities have stayed true to and fulfilled the Catholic mission and vision of the University.
For more information, please contact:
Dr. Ines Murzaku at Ines.Murzaku@shu.edu or (973) 275-2808
Gloria Aroneo at Gloria.Aroneo@shu.edu or (973) 275-2808.
Categories: Faith and Service