Thursday, October 11, 2018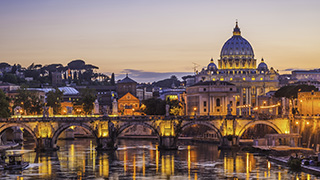 Italy in the Footsteps of the Saints: CAST 3998; RELS 3998; CORE 3762, HIST 4280 and HONS Seminar is a faculty led study abroad course in Assisi, Siena, Lanciano, San Giovanni Rottondo (Padre Pio), Orvieto, Rome and much more! This three-credit course / study abroad trip will take place March 7 – March 18, 2019. This course can be taken as CAST/RELS and as CORE 3 (for those who have taken CORE 1 and CORE 2), HIST 4280 and HONS Seminar. The group will meet for classes prior and after the study abroad experience (day and time will be determined).
Students will visit the tomb of San Padre Pio as well as visit the Basilicas of St. Clare and St. Franceis in Assisi. Private tours in Lanciano, Mozzagrogna, Assisi, Colosseum, Roman Forum, Vatican Museum/Sistine Chapel and St. Peter's Basilica are part of the study abroad.
The cost of the trip is approximately $3,800.00. This price includes all air and land transportation, hotel accommodations (double occupancy), breakfasts and evening meals, and all museum/site admission fees. Any members of the Seton Hall University community, including non-students, are eligible and encouraged to apply as soon as possible. There will be scholarships available for Catholic Studies Students who are either majoring, double-majoring or minoring in the program.
Anyone wishing to apply for this course/trip must contact Dr. Ines Murzaku (ines.murzaku@shu.edu) as soon as possible.
Those students interested into the course will be required to submit a non-refundable deposit of $500.00 by November 1, 2018.
About Catholic Studies:
The Catholic Studies Program at Seton Hall University offers an innovative, interdisciplinary curriculum for students of any creed who are interested in deepening their knowledge of Catholicism's rich intellectual tradition and living heritage. Combining the study of history, philosophy, theology, literature, art, sociology, and other disciplines, Catholic Studies focuses on the church's dialogue with culture and encounter with the world. Students interested in Catholic Studies have the option to pursue a major, minor, or certificate that complements and enhances the university's other degree programs and fields of study.
For more information, please contact:
Dr. Ines Murzaku at Ines.Murzaku@shu.edu or (973)-275-2808
Gloria Aroneo at Gloria.Aroneo@shu.edu or (973)-275-2808
Categories: Arts and Culture , Faith and Service