Wednesday, February 12, 2020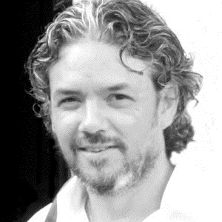 The Program of Catholic Studies is proud to present "Faith & Art – Evangelization in Twenty-First Century," a lecture by David Lopez on Monday, February 17 at 5:00 p.m. in the Walsh Library, Dean's Conference Room.
Artist David Lopez will also bring some of his precious artwork to display. "People see a landscape, and it excites them. They feel an aesthetic pleasure, regardless of whether they understand the mathematics behind that beauty. As artists, somehow, we perceive those laws and transform them into curves, lines, colors, ... Art is a, relationship of forms, textures and colors. At the same time art is an interpersonal relationship—a dialogue ultimately with God," said Lopez.
David Lopez, (b. 1972) is an award-winning Spanish painter and multidisciplinary artist, who lives and Works in Valencia. A devout Catholic, he received the Pontifical Academy Award in 2012 from Pope Benedict XVI for his contribution to the development of Christian humanism in contemporary society.
He is currently developing artistic projects in the United States with the support of the President-Director of the Musee du Louvre, Mr Jean Luc Martínez, the Director of the National Gallery of London, Mr Gabriele Finaldi, and the Pontifical Council of Culture in the Vatican. Since 1999 he has worked with an international group of artists on aesthetics projects for liturgical spaces around the world.
About Catholic Studies:
The Catholic Studies Program at Seton Hall University offers an innovative, interdisciplinary curriculum for students of any creed who are interested in deepening their knowledge of Catholicism's rich intellectual tradition and living heritage. Combining the study of history, philosophy, theology, literature, art, sociology, and other disciplines, Catholic Studies focuses on the Church's dialogue with culture and encounter with the world. Students interested in Catholic Studies have the option to pursue a major, minor, or certificate that complements and enhances the university's other degree programs and fields of study. Over 20 years the academic program and its variegated activities have stayed true to and fulfilled the Catholic mission and vision of the University.
For more information, please contact Dr. Ines Murzaku at Ines.Murzaku@shu.edu or (973)-275-2808, or Gloria Aroneo at Gloria.Aroneo@shu.edu or (973)-275-2808. 
Categories: Faith and Service