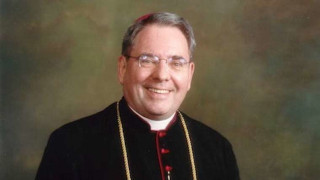 Although we recently marked the passing of The Most Reverend John J. Myers, J.C.D., D.D., Archbishop Emeritus of Newark, Seton Hall University has special reasons to continue to celebrate his life and his contributions to the life of the Church of Newark and beyond.
From 2001 through 2016, Archbishop Myers served as Chair of the Seton Hall University Board of Trustees and as President of the University's Board of Regents. Under Archbishop Myers's leadership, these governing bodies established the Departments of Catholic Studies and Core Curriculum, both of which are designed to encourage students to ask the "big questions" of the ages and seek the Truth. This pursuit of Truth encourages dialogue, understanding, and zeal for sharing the Gospel message. This is the legacy of Archbishop Myers—a legacy which the establishing and flourishing of Catholic Studies and the Core Curriculum at Seton Hall proudly represent.
It is not surprising that Archbishop Myers championed these particular academic programs. His motto as archbishop was "Mysterium ecclesiæ luceat" ("Let the mystery of the Church shine forth"). Through the opportunities that Catholic Studies and the Core present, the mystery of the Church has become an increasingly powerful beacon across the globe, illuminating minds and hearts.
In his homily at the Mass during which he was installed as the fifth Archbishop of Newark, Archbishop Myers noted that through the transformation to which we are all called, "our everyday actions will take on deeper meaning and human culture itself will be purified, enriched and ennobled." The Archbishop called on the laity to fulfill its integral role in the elevation of human culture; Catholic Studies and the Core at Seton Hall continually strive to inspire and empower students to meet this challenge.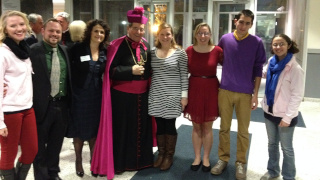 Archbishop Myers with Seton Hall students a few years ago. 
Dr. Nancy Enright, Professor and Director of the Core remembers, "the Core started while Archbishop Myers was head of Seton Hall (Chair, Board of Trustees and President, Board of Regents), so I am grateful for that support. I did not know Archbishop Myers very well, but I have a memory of having dinner at a local restaurant with him and others after a Catholic Studies talk we had on campus. He seemed, at that time, in less than good health, and I felt moved by that. In retrospect, knowing that he got quite ill not too long after this event, it was meaningful that he took the time and made the effort to support the talk. This is probably the only personal memory I have of him, but it is something that has stayed with me."
While Dr. Ines Angeli Murzaku, Professor and Director of the Catholic Studies program, had opportunities to talk with Archbishop Myers on several occasions, one meeting has stayed with her. She remarks, "I will never forget the first time I met him at a conference on Mother Teresa. Archbishop held Mother in high esteem, following her example and her charisma. They had a bond, the same vision and mission and a thirst to serve Christ. As Cardinal Tobin said: 'I entrust him [Archbishop Myers] to the loving arms of our Blessed Mother Mary, and I pray that Our Lord grant him peace.' He is probably in good company."
Dr. Murzaku fondly remembers when, in 2013, Archbishop Myers presented the Apostolic Blessing that Pope Francis had bestowed upon the newly established Department of Catholic Studies. She also notes, "Catholic Studies' Archbishop John J. Myers Lecture Series on Law, Society & Faith was established on the occasion of the granting of this Apostolic Blessing and the first anniversary of the establishment of the Department of Catholic Studies. The series is named for Archbishop Myers in recognition of his faithful and steadfast promotion of our Catholic mission and the leadership and guidance he gave to Seton Hall University."
Archbishop Myers has already taken his place in the curriculum of the Catholic Studies Program. Dr. Alan B. Delozier, University Archivist and Adjunct Associate Professor of Catholic Studies, includes Archbishop Myers's work and ministry in a module on "The Hierarchy in New Jersey" in his popular course The New Jersey Catholic Experience.
In his 2016 Pastoral Letter, "To Whom Shall We Go?," Archbishop Myers reminded the faithful: "The Church today, perhaps as never before, needs to and must rely upon the lay faithful to commit themselves . . . to the Church's mission of spreading the Gospel . . . to re-evangelize culture." The following tributes by alumni and faculty whose lives have been touched by Archbishop Myers's legacy at Seton Hall make clear that at Seton Hall, his message continues to resound.
Tributes from Seton Hall Faculty:
"Archbishop Myers always reminded us that as a university community, we ought to be committed to the discovery and living out of truth. And, as a Catholic university, we seek truth through both faith and reason, one supporting and illuminating the other. This is the legacy that I hope we re-commit to and continue forward as we strive toward new heights as an academic community."
-KC Choi, Ph.D.
Professor of Religion and Chair of Religion Department
"As an alumna of the classes of 1978 and 1985, my deep passion for the Catholic education I received and those of my children was greatly enhance at Seton Hall University. As a tenured faculty member for 29 years in the College of Nursing, Core, and Catholic Studies, the opportunities of your love for the Catholic University Mission through the development of these programs has inspired both faculty and students. God bless you always for inspiring our love for the Catholic Intellectual Tradition."
-Josephine DeVito, Ph.D., RN
Associate Professor
GEM Fellow—Praxis Program of the Advanced Seminar on Mission, the Center for Vocations & Servant Leadership & the Center Catholic Studies, Bernard J. Lonergan Institute at Seton Hall University
Faculty Member—Core Curriculum and Catholic Studies
"It is fitting and certainly proper at this time for the Seton Hall community to express its heartfelt gratitude to Archbishop John J. Myers for the contributions he made to our university. In particular, we recognize his unwavering support for the Catholic Studies Program and for the University Core, two initiatives that have transformed the educational landscape at SHU and affirmed the University's commitment to its cherished Catholic mission."

-Anthony L. Haynor, Ph.D.
Associate Professor of Sociology, College of Arts and Sciences
Member, Catholic Studies Faculty Advisory Board
Creator and Instructor of "Catholicism and the Human Sciences," cross-listed as CAST and CORE course
"A significant aspect of Archbishop John J. Myers's legacy was his steadfast commitment to Catholic education. He made great contributions as Chairman of the Board of Trustees and President of the Board of Regents to promoting the Catholic identity and mission of Seton Hall University. Thousands of students have and will benefit from an education in the Catholic Intellectual Tradition so strongly encouraged by the late Archbishop. He truly lived out his episcopal motto: 'Mysterium ecclesiæ luceat' (Let the mystery of the Church shine forth)."
-Rev. Joseph R. Laracy, S.T.D.
Assistant Professor of Systematic Theology, Immaculate Conception Seminary School of Theology
Faculty member of the Department of Mathematics and Computer Science, the Department of Catholic Studies, the University Core Curriculum, and the University Honors Program
Tributes from Alumni:
"The gratitude that I hold for Archbishop Myers's efforts to help create the Catholic Studies program is immense because I learned a great deal about myself and my relationships with others through my studies. Fortunately, I was able to declare a Catholic studies minor in my senior year, and it was a transformative experience. The courses I took challenged me to grow and helped me to formulate words to many of the deep thoughts I had about my faith. Notably, the courses Catholic Theology of Science and Italy in the Footsteps of the Saints were my most meaningful studies. The former bolstered my understanding of how my faith fits in accordance with my medical and scientific reasoning. Moreover, the pilgrimage to Italy was divinely overwhelming because of the intricate beauty of the history we learned while walking through our textbook, all of the incredible sites. It was inspiring to have strong trust in my prayer as I awaited acceptance into medical school. It has been a blessing to be a part of the Catholic Studies family because without it, my undergraduate career would not have been complete and for that, I am beyond grateful for Archbishop Myers's legacy: this program that is suitable for students of every area of study."
-Nick Cozzarelli, '19
Biology Major, Catholic and Italian Studies Minors
Second-Year Medical Student at Hackensack Meridian School of Medicine
Co-President of the Student Government Association at HMSOM
SOM Chair of the IHS Campus Student Council
"We thank God for the role of Archbishop Myers in preserving the Catholic witness of Seton Hall through establishing the Department of Catholic Studies and the University Core. May he receive his eternal reward and his soul rest in peace."
Rev. Peter Gallagher, '16
Diocese of Camden
"I would like to extend a heartfelt thanks to Archbishop Myers: a man whose unwavering zeal for souls and unrelenting love for the Church made it possible to reinforce the Catholic identity of Seton Hall by affording students an opportunity to delve deeper into their Catholic faith across the different academic disciplines. Thank you for unapologetically furthering the Church's mission and contributing to the integral development of the human person as outlined by the rich Catholic intellectual tradition throughout the history of Christianity."
-Rev. Cesar D. Jaramillo, JCL '13
Diocese of Paterson
"I am most grateful to Archbishop Myers for my experience with Catholic Studies at Seton Hall. The department paved the way for a widely versed road of leadership for me. From history, to modern Catholicism, philosophy, theology, social service, art, and literature, I've been well equipped to follow the steps of the world's most influential leaders: the Saints."
-Kristine London Kurian '18
Elementary Educator, Koinonia Academy
"Being a Seton Hall University Catholic Studies alumnus, I am truly grateful for the leadership and support of Archbishop Myers toward the Christian mission of the university. The CORE and Catholic Studies courses I took at Seton Hall brought the fundamentals of my faith into the computer engineering career I am currently pursuing. These programs taught me what it means to be a Catholic and how to carry out that Catholic mission through my own life. The core curriculum enables students (like me) to immerse themselves into a world of critical thinking that molds responsible servant leaders of today. The Catholic Studies courses are further designed to imbue Catholic Intellectual Tradition into the diverse academic careers Seton Hall has to offer. Whether you are majoring in Business, Diplomacy or any Science, Catholicism brings great ethical and moral issues to the table. Double majoring in Physics and Catholic Studies, I can attest that my future career has been defined through these life-enriching programs that I would not have experienced had I not come to Seton Hall. It is with no doubt that through the legacy of Archbishop Myers, Seton Hall is fervently dedicated to fulfilling the Catholic mission throughout all levels of academia."
-Jose E. Morocho-Ludizaca, '20
Physics & Catholic Studies
"As a proud and practicing Catholic, as well as a graduate from Seton Hall's historic Department of Catholic Studies, I know I'll forever be grateful for the work of Archbishop Myers in securing the Apostolic Blessing upon the program and working to secure its future with our University. It is an honor I will not soon forget, and I pray for Archbishop Myers as he now takes his rightful place with our Heavenly Father."
-Vincent Santore, '17
Systems Engineer at Lockheed Martin, Founder/CEO of The Burr Project
"At the bedrock of our Catholic University is our Catholic Studies Department. Without it, we are a little more than tax-dodging landowners. But even beyond the University's obligation to the principles it has publicly assumed, a strong Catholic Studies presence is an asset to each student around it. I've not found, nor been recommended, a program as intellectually challenging and spiritually fulfilling as Catholic Studies, and to say I'm grateful for it would be a gross, gross understatement. I commend Archbishop Myers, and any leader, secular or ordained, for their steadfast efforts in its preservation."
-Christian Zeron, '16
Founder – President Theo & Harris
Categories: Faith and Service