Seton Hall University's Catholic Studies Department proudly presents St. Elizabeth Ann Seton's Remarkable Legacies: Celebrating the 200thAnniversary of Mother Seton. The events in this series will be streamed online via Zoom and are open to the public.
This bicentennial year of St. Elizabeth Ann Seton's passing is a fitting time for the Seton Hall community to reflect on the university's patron saint—to consider her life experiences, and to grow in appreciation of her gifts and charisms as they have been shared through the years and across the globe.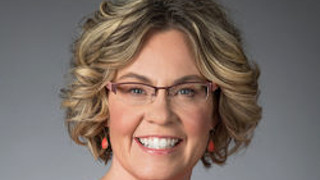 Kathleen Sprows Cummings
"The Catholic Studies Program is in a unique position to support the members of our university community as they seek to fully appreciate and put into practice the values St. Elizabeth Ann Seton espoused," said Dr. Ines Murzaku, Director of the Catholic Studies Program. "We are pleased to be able to present this series, which shares contemporary perspectives on our patron saint, drawing on the research and wisdom of our students, our esteemed and erudite faculty, and a guest scholar who is renowned for her expertise in American Catholicism."
The first event in the series, to take place on Tuesday, March 16, at 5:30 p.m. EST, will be a student panel discussion on the theme of "Saint Elizabeth Ann Seton: A Real Woman of Her Time—A Daughter, Wife, Mother, and Friend." The presenters at this event will be Ms. Giselle Pineda, Ms. Bridget Emerson, and Ms. Catherine Wasson. Access the event here.
Meeting ID: 912 1777 6343
Passcode: YKr84g
The second event, which will take place during Charter Week 2021, will feature Seton Hall University faculty members who have special expertise in various areas of St. Elizabeth Ann Seton's legacy. "The Power of St. Elizabeth Ann Seton's Example for Today," to be presented on Tuesday, March 23, at 5:30 p.m. EST, will include discussions of how our patron saint has made her mark around the world and in many fields of work.
Sr. Mary John Bosco E. Amakwe, Adjunct Professor in the College of Communication and the Arts and teaches for the University Core Curriculum, will address "Mother Seton's Legacies: An International Perspective."
Professor Alan Delozier, University Archivist and Adjunct Professor for Catholic Studies, will discuss "Preserving the Life and Legacy of St. Elizabeth Ann Seton in Print." They will be joined by Dr. Thomas Rzeznik, Associate Professor of History, who will present "The Doctor's Daughter: Mother Seton's Legacy in Health Care." Access the event here.
Meeting ID: 992 1013 2490
Passcode: vuQy55
The concluding presentation in this series, "Elizabeth Ann Seton: The Most American Saint?," will take place on Tuesday, April 20, at 5:30 p.m. At this event, we welcome Dr. Kathleen Sprows Cummings of the University of Notre Dame. Dr. Cummings is a specialist in American Catholic history and has published and made media appearances on the subjects of women in the Church and various elements of the Catholic experience in America. Access the event here.
Meeting ID: 991 7931 7705
Passcode: 1hctL9
The event is co-sponsored by: Campus Ministry, University CORE Curriculum, Immaculate Conception Seminary School of Theology and Priest Community.
About Catholic Studies:
The Catholic Studies program at Seton Hall University offers an innovative, interdisciplinary curriculum for students of any creed who are interested in deepening their knowledge of Catholicism's rich intellectual tradition and living heritage. Combining the study of history, philosophy, theology, literature, art, sociology, and other disciplines, Catholic Studies focuses on the Church's dialogue with culture and encounter with the world. Students interested in Catholic Studies have the option to pursue a major, minor, or certificate that complements and enhances the university's other degree programs and fields of study. Over 20 years the academic program and its variegated activities have stayed true to and fulfilled the Catholic mission and vision of the University.
For more information, please contact Dr. Ines Murzaku at Ines.Murzaku@shu.edu, and Gloria Aroneo at Gloria.Aroneo@shu.edu.
Categories: Faith and Service