Monday, February 22, 2021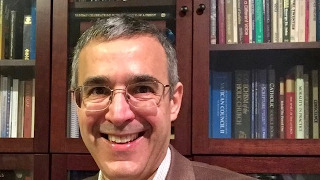 The Catholic Studies program is pleased to welcome John M. Travaline, M.D.. Dr. Travaline is teaching a popular Catholic Studies course for Spring 2021, Catholicism, Healthcare and the Human Condition, a must-have-course for our pre-meds, nursing, biology, chemistry, physical therapy, and occupational therapy students.
"We are excited to have a physician and ethicist of the caliber of Dr. Travaline on our faculty," said Dr. Ines A. Murzaku, Director of the Catholic Studies Program. "Dr. Travaline is a widely respected surgeon and medical educator, a scholar of religious studies and ethics, and a Roman Catholic deacon. His broad experience in medical practice, education, and ministry gives him a unique perspective on medical ethics, and he is eager to share his passion for compassionate care with our students. We are also happy to offer the course developed by Anthony Carlino M.D. and Ph.D. in the Fall and Spring (Dr. Carlino offers the course in the Fall)."
John M. Travaline M.D. is a specialist in bioethical issues and is a Professor of Thoracic Medicine and Surgery at the Lewis Katz School of Medicine at Temple University. He earned his medical degree from Jefferson Medical College, and he completed training in internal medicine at the University of Maryland Medical Center and in pulmonary and critical care medicine at Temple University Hospital.
His interest in religion and medicine is long-standing. His work to interweave the discipline of Christian ethics with practice of medicine began when he was a graduate student of religious studies at Villanova University. He has been particularly interested in understanding human suffering in the context of illness and engaging medical students and physicians in conversation about caring for patients in accord with their dignity as persons, especially at the end of life. He lectures frequently at the local and national levels and is a member of the faculty for the Philadelphia archdiocesan program Life Affirming Choices: End-of-life Decision Making through the Office for Life and Family. Also, through an initiative of the Catholic Medical Association, Dr. Travaline co-authored and recorded public service announcements for radio broadcast intended to educate the public about the perils of euthanasia and physician-assisted suicide.
In addition to making ongoing contributions to the education and formation of medical students, Dr. Travaline maintains an active clinical practice in both critical care and the care of patients with acute and chronic lung conditions, including patients with lung cancer. He served on the ethics committee at the University of Maryland Medical Center and at Temple University Hospital, where he was its chairman from 1999-2004. He served for many years as a member of the Temple Research Review Committee of the Institutional Review Board and has been a regular contributor to The National Catholic Bioethics Quarterly. He currently serves as the Executive Editor for The Linacre Quarterly, the official publication of the Catholic Medical Association. He is the author or co-author of more than 120 peer-reviewed journal articles, abstracts, and book chapters, including publications on topics in medical ethics, physician-patient communication, end-of-life care, and selected areas in theology. He is also co-editor of Catholic Witness in Health Care, Practicing Medicine in Truth and Love (CUA Press 2017).
In addition to his academic medical profession, Dr. Travaline was ordained deacon for the Archdiocese of Philadelphia in 2012. He and his wife, Cathy, enjoy more than 32 years of marriage. They have four children and two grandchildren, and they reside in suburban Philadelphia.
About Catholic Studies:
The Catholic Studies program at Seton Hall University offers an innovative, interdisciplinary curriculum for students of any creed who are interested in deepening their knowledge of Catholicism's rich intellectual tradition and living heritage. Combining the study of history, philosophy, theology, literature, art, sociology, and other disciplines, Catholic Studies focuses on the Church's dialogue with culture and encounter with the world. Students interested in Catholic Studies have the option to pursue a major, minor, or certificate that complements and enhances the university's other degree programs and fields of study. Over 20 years the academic program and its variegated activities have stayed true to and fulfilled the Catholic mission and vision of the University. For more information, please contact Dr. Ines Murzaku at Ines.Murzaku@shu.edu or Gloria.Aroneo@shu.edu .
Categories: Education , Faith and Service