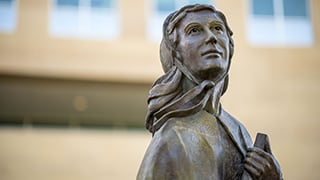 The Catholic Studies Program is pleased to announce the publication of the latest volume of Arcadia: A Student Journal for Faith and Culture. This volume invites readers to appreciate fresh perspectives on American Saints and Blesseds, responsibility, and stewardship.
The first section of the journal features the winning essays from the Catholic Studies Program's 2019 essay contest for New Jersey Catholic High School students. Each of these impressive contributions focuses on how an American Saint or Blessed inspires the writer. Each author explores the particular qualities of an American Saint or Blessed, revealing keen insights about living a holy life in a specific time and place.
"Reading these essays is truly inspiring," said Dr. Ines Murzaku, Director of the Catholic Studies Program. "They show that the Faith is alive and well in New Jersey, being lived out by young people who sincerely desire to follow in the footsteps of saints who trod the same ground we tread today."
The journal's second section represents a felicitous partnership, adding a new element to Arcadia. This partnership arose from the convergence of three initiatives at Seton Hall: Arcadia's goal of providing a vehicle for students to contribute to the "dialogue between the Catholic Tradition and all areas of contemporary culture," the 2018 Freshman Studies summer essay contest, and a project undertaken by GEM fellows of Seton Hall University's Praxis Program of the Advanced Seminar on Mission.
The 24 essays in this second section of Arcadia were written in response to the Freshman Studies 2018 summer reading book, Coming of Age at the End of Nature: A New Generation Faces Life on a Changed Planet, which gives voice to the experience of today's young people, who have come to maturity during an era that, as editors Julie Dunlap and Susan Cohen describe, is marked by unprecedented "news and personal experiences of unprecedented environmental change."
As GEM fellows of the Praxis Program of the Advanced Seminar on Mission, Dr. Marian Glenn and Dr. Lisa Rose-Wiles have focused on the same challenge that the young writers in Coming of Age at the End of Nature explore: making productive change in a world that shows signs of being in a state of decline. Specifically, the research of Drs. Glenn and Rose-Wiles has focused on the call for personal and collective environmental responsibility clearly articulated in Pope Francis's encyclical Laudato Si: On Care for Our Common Home and in Jesuit theologian Bernard Lonergan's cultural sequence of progress–decline–redemption.
Drs. Glenn and Rose-Wiles selected 24 of the Freshman Studies essays that emphasize personal and communal responsibility, reflecting the underpinnings of both Laudato Si and Lonergan's framework. These essays show that Grace permeates these young scholars' responses to their environment and transforms their reflections and actions into acts of redemption. Responsibility as redemption is the common theme among these 24 essays; this theme is also present in the high school students' essays in this volume.
Arcadia's artwork, by Seton Hall students Monet S. Watson and Nicole Alves, underscores the theme and invites readers to consider the essays from multiple perspectives.
"Since one element of the mission of the Catholic Studies Program is to reintegrate Catholic values throughout all academic programs at Seton Hall, we're especially excited to have the opportunity to publish the work of students studying in all different disciplines, learning how they approach our common problems and, through grace, find creative and redemptive solutions," said Dr. Murzaku.
About Catholic Studies: 
The Catholic Studies Program at Seton Hall University offers an innovative, interdisciplinary curriculum for students of any creed who are interested in deepening their knowledge of Catholicism's rich intellectual tradition and living heritage. Combining the study of history, philosophy, theology, literature, art, sociology, and other disciplines, Catholic Studies focuses on the Church's dialogue with culture and encounter with the world. Students interested in Catholic Studies have the option to pursue a major, minor, or certificate that complements and enhances the university's other degree programs and fields of study. For over 20 years, the academic program and its variegated activities have stayed true to and fulfilled the Catholic mission and vision of the University.
For more information, please contact Dr. Ines Murzaku at Ines.Murzaku@shu.edu or (973) 275-2808 Gloria Aroneo at Gloria.Aroneo@shu.edu or (973) 275-2808.
Categories: Faith and Service