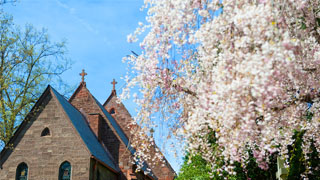 On April 19th, 2018 The Center for Catholic Studies will sponsor RENEW International as they celebrate 40 years of transforming parish life by hosting The Monsignors Thomas Kleissler and Thomas Ivory Symposium on Parish Renewal.
Beginning at 1:30 p.m., this day of insight and discourse on pastoral renewal will take place in Bethany Hall. Check-in will begin at noon.
Attendees will hear from Keynote Speaker, William Simon Jr., chairman and founder of Parish Catalyst and author of Great Catholic Parishes.
A panel discussion will be moderated by Reverend Matthew Malone, SJ, president and editor in chief of America Media. The panelists include:
• Leida Anslinger, director of Catholic Life and Faith
• Reverend Bismarck Chau, pastor of St. Patrick's Pro-Cathedral, Newark, NJ
• Chris Lowney, author of Heroic Leadership, Everyone Leads
• Sr. Terry Rickard, OP, president and executive director of RENEW International
Evening prayer at the end of the event will be led by Joseph Cardinal Tobin, Archbishop of Newark, and followed by a light reception.
This symposium is presented in partnership with America Media and the Center for Catholic Studies at Seton Hall University.
For more information or to register, visit the Symposium webpage. For more information about RENEW International's other 40th anniversary celebrations, visit their website.
About RENEW International
RENEW International fosters spiritual renewal in the Catholic tradition by empowering individuals and communities to encounter God in everyday life, deepen and share faith, and connect faith with action. RENEW International has over a 30-year record in revitalizing parish life in more than 150 dioceses in the United States, touching the lives of 25 million people through its ministry services. RENEW International has also reached many thousands outside the United States, having served people in 23 countries, across six continents and in 44 languages and dialects.
About the Center for Catholic Studies
Founded at Seton Hall University in 1997, The Center for Catholic Studies is dedicated to fostering a dialogue between the Catholic intellectual tradition and all areas of study and contemporary culture, through scholarly research and publications and ongoing programs for faculty, students, and the general public. In 2001, the Center conducted the annual faculty summer seminar, "The Core of the Core," which originated the present University Core Curriculum. The Center also developed the undergraduate degree program in Catholic Studies with its major, minor and certificate, which in 2012 became the Department of Catholic Studies. The Center continues to support the Department with scholarship aid and its ongoing program of co-curricular activities.
Focusing on the central role of the faculty, the Center is the sponsor of regular Faculty Development programs, including lectures, seminars and retreats. The Center also administers two national faculty development programs: Collegium: A Colloquy on Faith and Intellectual Life, and The Lilly Fellows Program.
The Center maintains a global focus in international scholarship and is the home of the G.K. Chesterton Institute for Faith & Culture, as well as the Bernard J. Lonergan Institute. The Institutes offer opportunities for study and research, as well as ongoing programs related to faith and culture. In addition, the Micah Institute for Business and Economics concentrates on communicating Catholic Social Teaching and ethics to business education at Seton Hall and the wider business community. The Center also publishes the prestigious Chesterton Review, The Lonergan Review.
For more information, visit here.
Categories: Faith and Service