Tuesday, September 6, 2022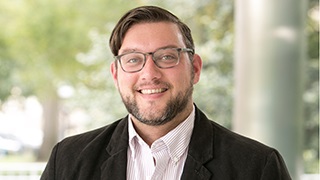 Gregory P. Floyd, Ph.D. Director, Center for Catholic Studies
The Center of Catholic Studies has received a large multi-year grant from the Porticus Foundation to support "integral faculty formation in the Catholic tradition," a project that seeks to support and revitalize the identity and mission of Catholic colleges and universities by developing a network of faculty leaders within institutions and across institutions who are at the service of the local church and community.
Over the next three years, with strategic partners from around the university and the country, the Center for Catholic Studies will implement new initiatives in three key areas: faculty development, Catholic Studies, and local church and community engagement.
Center Director, Gregory Floyd, Ph.D., noted that "the tremendous show of support from the Porticus Foundation not only provides resources for our current programming, but also enables us to develop those resources and share them with other colleges and universities as well as our local church and community. It helps position Seton Hall to be a partner and a leader in the shared work of Catholic Higher education across the country."
"We are grateful to the Porticus Foundation for trusting Seton Hall University to lead this important multi-year project," said Jon Paparsenos '99, Vice President of University Advancement. "This grant is one of several recent grants we have received for faith-forward programs and initiatives. They testify to Seton Hall's growing reputation for scholarship in Catholic traditions, Catholic education and the pastoral mission."
Assistant Provost Amy Newcombe added, "We are so happy to hear that the Center has earned this generous grant. It affirms the work we have long been doing to introduce our faculty to the mission in a meaningful and ongoing way. We look forward to continued participation in this national Network of Catholic Studies Centers and Programs, most notably as we prepare to host the annual conference in 2024."
Initiatives already underway include a daylong institute on science and religion for K-12 Archdiocesan educators, the creation of online resources for mission-focused faculty development nationwide, membership in the new national Network of Catholic Studies Centers and Programs, and in cooperation with the Center for Vocation and Servant Leadership, new opportunities for our Praxis faculty.
Categories: Faith and Service