Tuesday, November 30, 2021
Student meets virtually with a representative from The NBA.
On Wednesday, November 17th, nearly 200 students enthusiastically participated in The Career Center's annual Media, Sports, Marketing Networking Event, as it returned to the South Orange campus held at Bethany Hall. Professionals from various industries were thrilled to participate and contribute to the professional development of SHU's student leaders.
With last year's historic pandemic and face-to-face restrictions, The Career Center quickly adapted its delivery of events to a virtual format. As a result, The Career Center embraced the opportunity to develop a hybrid venue for the annual Media, Sports, Marketing Networking Event, providing more access to students and representatives to network both face to face and virtually. For industry professionals who were unable to attend in person, this hybrid format provided a reserved virtual section for up to 10 additional employers to participate. Representatives logged in to their virtual platform of choice to meet with students. The flexibility of this hybrid event also sharpened students' virtual networking skills.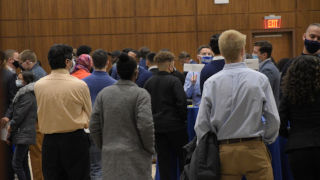 2021 Media, Sports & Marketing Networking Expo.
The feedback from The Career Center's first hybrid event was overwhelmingly positive. Students expressed their gratitude and appreciation for the career advice provided by industry professionals and the opportunity to network with alumni who recently graduated from the Hall (please click on here to watch student testimonials). One such alumnus, Mr. Justin Mathess, Senior Manager, Media Distribution & Strategy at National Hockey League (NHL) wrote, "Jorge, really enjoyed last night… None of them [students] really were asking for jobs, they were very interested in what I do and how I got there, and asked what advice I had for them in getting started in the industry. Hats off to you and the team at SHU for that as that is the way these kinds of conversations are supposed to happen. Can't wait for next year."
The Career Center team is excited about the Spring 2022 semester events and invites all students to:
Schedule an in-person or virtual appointment with a member of The Career Center -> click on Compass (via PirateNet) or call (973) 761-9355;
Visit The Career Center website to explore the career services and upcoming events offered; and learn about internship and job search on Handshake.
Categories: Business