Thursday, September 30, 2021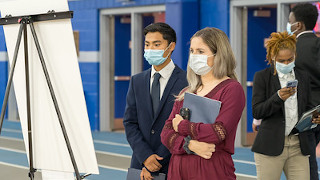 More than 70 employers and 400 students and alumni attended the Fall Career Fair which took place on Wednesday, September 22 in the Field House of the Richie Regan Recreation and Athletic Center. The large space allowed employers, students, and alumni to spread out while they networked. 
Students and alumni were excited and ready to meet employers. We spoke with several students to find out what they were looking to gain from this event.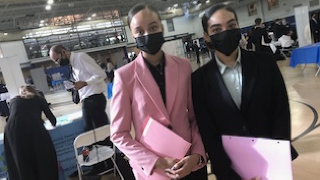 Kassandra L Griffin and Jessi-Marie Agosto
In speaking with Kassandra L Griffin (Finance and IT majors) and Jessi-Marie Agosto (Mathematical Finance) both scholars in the Educational Opportunity Program (EOP) attended the career fair because they are sophomores with a desire to learn what types of jobs and internships are offered. Attending the career fair was encouraged by EOP early on in their collegiate journey. 
Alumni David Awad (Finance and IT), understands the value of building these relations. A major reason for his attendance was to meet people and see what's new in the field. David was also at the fair to showcase his skills that he acquired from working for a year.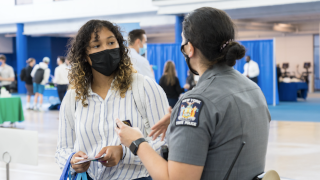 Kelly Reyes
Kelly Reyes (Social Behavioral Sciences) attended the career fair because she recognized that graduation is next year and she needed to better understand the job market. She stated, 
"I want to make these connections before I graduate in the summer. This career fair has helped a lot because I did not know these companies existed."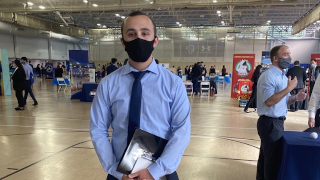 Ryan Karaty
Now a senior in the accounting major in Stillman School of Business, Ryan Karaty has already interned with two leading companies, yet he attends the career fair to continue to learn about the experiences that each employer brings to the table, especially in the fields he is most interested in. 
Jorge Rivera, Assistant Director in the Career Center believes that when students start to pursue internships or even part time work, it serves as a stepping stone that could lead into an opportunity in the future as it allows students to walk away with a new connection in the industry.
Sara Barrientos
Sara Barrientos who is majoring in Marketing & International Business said the following. 
"I am amazed to learn that different companies from various industries all accept marketing positions."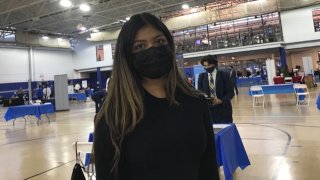 Drisha Mishra
Drisha Mishra (Public Relations) did not want to wait for senior year to start thinking about what might be next after graduation.
"I've been looking for internships and thinking ahead that maybe this internship could lead to a future job opportunity."
In an article published in the National Association of Colleges and Employers (NACE), a leading source of information on employment for college students, authors Sean O'Keefe and Barry Posner explained that "Internships make college students more competitive in the job market because they give students a chance to gain knowledge, skills, and experience valued by potential employers." The article also mentions that career professionals need to engage with students to help them understand that "who you know" does not matter so much until "you know someone!" Moreover, the payoff from an internship appears to be greater in terms of leading to a job offer.
The university continues to provide the necessary avenues for our students to network within the local and global community. Click here for a listing of upcoming Career Center events.
The Career Center team is building up new opportunities and students can anticipate having more professionals who work in their field of interest on campus. This allows students to be introduced to various roles and functions within their majors.
Additionally, the University continues to introduce cutting edge software to ensure students are equipped to enter the work place. In Fall 2021, The Career Center launched the Handshake platform, which is the #1 way college students find internships and jobs. This platform allows students to gain direct access to employers and get a sense of the companies that are hiring. In addition, it allows the students to be more informed on where and how to develop their network. This cutting edge software is an app located in PirateNet.
The Career Center would like to extend our thanks to the ROTC cadets for their assistance and support in the breakdown of the event. 
Categories: Business , Campus Life
---
Fall 2021 Career Fair