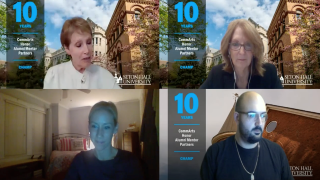 Dean Deirdre Yates and Director of the Career Center Reesa Greenwald with two CHAMP Alumni
On Tuesday, October 27th mentors and alumni from the Comm Arts Honor Alumni Mentor Partner (CHAMP) program attended a virtual 10 year celebration of the program's continued success.
Over the past 10 years the CHAMP program has bridged partnerships between alumni mentors and students. Alumni have shared their time and talent helping students gain a competitive edge by learning about career opportunities through mentorship.
The virtual event started off with an interactive word cloud exercise. Those who tuned in were asked to submit one word or phrase that came to mind when they thought about CHAMP.
Connections, empowering, success, networking, valuable, meaningful, inspiring, paying it forward, were some of the words and phrases that appeared on the live screen. The word cloud was referenced throughout the presentation with more inspiring words continuing to be submitted as the program went on.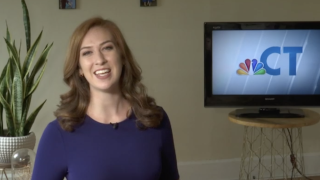 Alumna Siobhan McGirl
Alumna Siobhan McGirl, who now works as an on-air correspondent for NBC Connecticut, spoke about her time in the CHAMP program during her Breaking News segment at the beginning of the program.
"I was lucky enough to gain two mentors during my time as a student. Thank you so much Leo Bottary and Rosemary Mercedes for your words of wisdom. For being willing to take all of my phone calls and offer your sage advice. It really helped me get started in my journalism career and I am so thankful for the CHAMP initiative for helping me get to where I am today working as an on-air reporter for NBC Connecticut."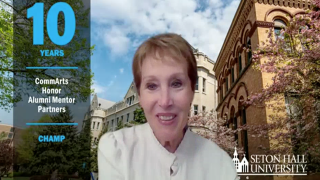 Dean Deirdre Yates
Deirdre Yates, Dean of the College of Communication and the Arts, Dr. Shawna Cooper-Gibson, Vice President of Student Services, kicked off the virtual celebration with their remarks on the program's success. Angel Aristone, Executive Vice President of Communications at iHeartMedia moderated the program. Reesa Greenwald, the Director of the Career Center, along with co-founder of the program and long-time mentor, Paul Ward were also in attendance.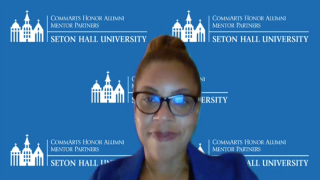 Dr. Shawna Cooper-Gibson
Dr. Cooper-Gibson lauded CHAMP as a "inspirational program and a source of pride for Seton Hall" and said that "the student experience is far richer" due to the commitment of alumni mentors that devote their time to the program.
Dean Yates spoke about how fortunate she is to be a parent of a student who has gone through the program. Her daughter Emily was paired with CHAMP co-founder Paul Ward when she was a student at Seton Hall and with his help, launched into a successful career.
CHAMP is hoping to hosting an in-person 10th Anniversary celebration in May of 2021.
To find out more about the CHAMP program click here: https://www.shu.edu/communication-arts/champ.cfm.
Categories: Campus Life