*Update on CHAMP's 10th Anniversary Reunion.
On January 22, the CommArts Honor Alumni Mentor Partners (CHAMP) ushered in its 10th year with a kick-off event in Bethany Hall. Thirty students from the College of Communication and the Arts were matched with 30 alumni mentors who work in various communication industries. Students and mentors networked throughout the night, connecting CommArts professionals of the future with successful Seton Hall alumni.
As a collaboration between The Career Center, the College of Communication and the Arts, and Alumni Relations, CHAMP is designed to give Seton Hall CommArts students a competitive edge in reaching their professional goals. The program helps students enhance professional skills and begin to build their professional network. Mentors currently participating in the program have proven success in positions at prestigious companies such as Viacom, Novartis, Univision, iHeartRadio, ESPN, and more.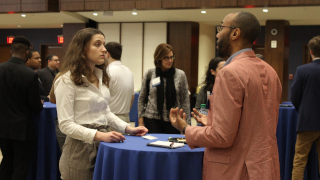 Visual and Sound Media major and newly-inducted CHAMP mentee Amy Velez recounted her experience in joining the program.
"I really enjoyed networking with everyone at CHAMP, both with the mentors and the other students. My mentor is Michelle Egan, and she's the Chief Communications Officer for Aleyska," said Velez. "Currently, I don't know what career path specifically I want to go down, but I'm hoping CHAMP and Michelle will give me guidance. I've already started networking at the opening ceremony, so when I figure out what I want to pursue, I feel like I already have a head start."
Angel Aristone '15 received her Master's in Strategic Communication from Seton Hall and is currently the Executive Vice President of Communications at iHeartMedia. Aristone returned to the University to participate in the CHAMP program and spoke on the benefits that mentorship has on students.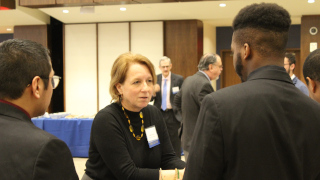 "Mentors can provide a student professional advice and support beyond what they may obtain in their day-to-day college curriculum," stated Aristone. "Early on, I had a mentor who heavily influenced my leadership style, and she continues to guide me throughout my professional career. Given my personal experience, I can appreciate the impact a mentor can have on a student firsthand. It's reassuring to see that universities such as Seton Hall recognize the positive influence a mentorship program can bring to a soon-to-be graduate."
The evening began with initial introductions in which students and mentors met for the first time. After introductions Reesa Greenwald, the Director of The Career Center, spoke about CHAMP's decade-long success and plans for the future. Once the event had concluded, mentors and students walked together to the WSOU office to watch Seton Hall's men's basketball team defeat Providence.
To celebrate CHAMP's 10-year anniversary, those who have participated in the program over the past decade are invited to attend a celebratory cocktail reception which was originally scheduled for Tuesday, May 12, 2020 at 6 p.m. but has been postponed until Thursday, September 24, 2020 in Bethany Hall. An email with more information on how to R.S.V.P. for the event will be sent out soon. 
To learn more about CHAMP, or to apply to the program for the Spring 2021 semester, contact The Career Center at careers@shu.edu.
Categories: Alumni , Campus Life
---
2020 CHAMP Kick-Off Event