Wednesday, November 9, 2022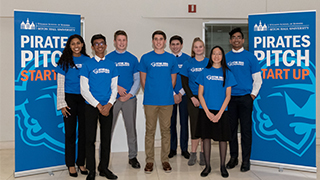 Ten high school entrepreneurs committed to launching their own start up or receiving support for fledgling businesses will virtually compete as finalists in Seton Hall University's eighth annual High School Pirates Pitch competition, hosted by the Center of Innovation and Entrepreneurship at the Stillman School of Business from 3 p.m. to 6 p.m. on Friday, November 18. To attend the Microsoft Teams event, click here. 
These future business leaders have successfully submitted original business proposals describing an innovative product or service in 350 words or less. The students next face off in a "Shark Tank" style competition, after passing their first hurdle against 180 young entrepreneurs from 15 U.S. states and five foreign countries to qualify for more than $50,000 in prizes and tuition scholarships to the University. They will convey their startup ideas in five-minute presentations to an independent judging panel of faculty members and successful alumni. The University community and the public are invited to watch these pitches and cheer for their favorite contestant in this live-streamed event, which will include a five-minute Q&A session and all will receive valuable feedback from the judges.
"Their projects are wide-ranging, including  virtual clothes fitting, language-based online math training, artisanal tea cubes, and a way for athletes to stay hydrated on the playing field. Some of the students have focused their efforts in 'social entrepreneurship,' employing entrepreneurial skills and knowledge to help their communities and change the world. One student aims to recycle tennis balls, and another wants to connect university students with high school students in underserved communities for help with college applications. Several of the students have already launched their businesses and are operating ventures," said Susan Scherreik, founding director of the Center of Innovation and Entrepreneurship in the Stillman School of Business.
"Entrepreneurial education is more crucial than ever, and we celebrate the innovation and creativity of these amazing ten finalists. Their projects demonstrate a can-do entrepreneurial spirit that we need now more than ever to solve the numerous challenges our world faces and that are especially valued in today's business climate. They are on their way to becoming tomorrow's entrepreneurial leaders and change-makers,"  Scherreik added.
Scherreik explained that some students have been developing their startup projects in their high school entrepreneurship courses, as entrepreneurship is increasingly becoming a popular business offering in high school as well as in the university curriculum.
"All students who are participating receive important business lessons on how to be nimble and flexible and I am impressed by their confidence and passion in this process," she said.
Seton Hall University's popular teen startup competition takes place during the third week in November to celebrate Global Entrepreneurship Week (GEW), which spotlights the millions of people around the globe who are unleashing their ideas to start and scale new businesses. This year, GEW will sponsor a total of 40,000 events and activities in 200 nations.
All qualifying finalists will receive at least $4,000 in tuition scholarships to attend Seton Hall. The top finalist will receive a $2,500 cash award and a $10,000 tuition scholarship. The second-place winner will receive a $1,000 cash award and a $6,000 scholarship. The Audience Choice Award winner will receive $300.
This year's finalists include:
Aishani Bal, a junior at Denmark High School in Cumming, GA.
- Startup Idea: asecondlife
Joshua Cuman, a senior at Don Bosco Preparatory High School in Mahwah, NJ.
- Startup Idea: MySty
Ryan Heneghan, a senior at Rham High School in Hebron, CT.
- Startup Idea: InstaCaddie
Shaomin Kee, a junior at Lambert High School, Suwanee, GA.
- Startup Idea: ChillPak
Liam Levantovich, a senior at New Visions Honor Academy, Horseheads, NY.
- Startup Idea: Truefood
Lily Liu, a sophomore at New Providence High School in New Providence, NJ.
- Startup Idea: NetLoveNJ
Cienna Mitchell, a sophomore at Park Ridge High School, Park Ridge, NJ.
- Startup Idea: Hydroguard
Stefan Neuber, a senior at Windsor High School, Windsor, CA.
- Startup Idea: MatheX
Brianna Robinson, a junior at Archbishop Molloy High School, Queens, NY.
- Startup Idea: Bri's Varia-Teas.
Dashawn Sheffield,  a senior at North Star Academy Washington Park High School, Newark, NJ.
- Startup Idea: EduMatch
The prominent judging panel includes Stillman business faculty and alumni entrepreneurs: Dr. Elizabeth McCrea, associate professor of management and entrepreneurship; Sunny Bathla '00/MBA '15, senior vice-president, Virtusa, and founder, OSB Co.  and Alissa Lopez, M.B.A. '19, founder and CEO of the Family Balance Planner, and first-place winner in the Seton Hall collegiate Pirates Pitch competition. Also on the panel are Patrick Burd, '18, founder of Classic Soccer Cleats and recipient of the 2021 Seton Hall University Emerging Entrepreneur Award, and Victor Gomez, '17, manager of Seton Hall Esports, winners of the 2022 BIG EAST League of Legends and Rocket League Championships.
Seton Hall's High School Pirates Pitch helps develop and showcase entrepreneurial skills that align with the World Economic Forum's list of the top skills that professionals need to thrive in 2021, including complex problem-solving, critical thinking, and emotional intelligence. The competition also introduces students to the Stillman School of Business, its Center of Innovation and Entrepreneurship, and its nationally-ranked Center for Leadership Development within the Buccino Leadership Institute.
For more information, please visit here and to watch the finalists compete, click here.
Categories: Business , Campus Life