Wednesday, April 14, 2021
"Success is not final; failure is not fatal: it is the courage to continue that counts."
- Winston Churchill
These wise words are in the heart of every entrepreneur as they continue to pursue their business ideas.
Four outstanding Seton Hall University student entrepreneurs pitched their business ideas to compete for over $16,000 in venture capital seed funding at the 11th annual Pirates Pitch Startup Contest sponsored by the Stillman School of Business' Center of Innovation and Entrepreneurship. The April 7th virtual event was a huge success that attracted over 250 viewers.
The contest kicked off in January when interested students attended a series of workshops and mentoring sessions. Each student team then submitted a two-page Executive Summary outlining its idea. Of the 20 startup ideas submitted by students throughout the University, four teams were chosen to compete in the final round. The startup ideas were evaluated based on several criteria, including originality, viability, and growth potential.
This year's competition yielded a variety of startup ideas as the aspiring entrepreneurs are from diverse backgrounds, each pursuing different academic disciplines. They included both undergraduate and graduate students. All four finalists received funding for their business ideas.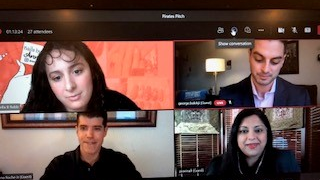 Top student entrepreneurs were awarded more than $16,000 in the Pirates Pitch 2021 competition.
During Pirates Pitch, Dean Joyce Strawser commented that "the competition, which has become a signature event for Stillman, is a wonderful learning experience - not just for the contestants, but also for aspiring entrepreneurs who join us to watch the pitches."
Nicholas Marinelli received $7,000 for Extra Time Training App which allows soccer players to train smarter, harder, and more efficiently on a cutting-edge platform that tracks their tactical and fundamental performances. Players are able to unlock their true potential and hone their athletic abilities. He was also recognized with the $500 Audience Choice Award. Marinelli is a senior from Staten Island, NY. He is pursuing a dual degree in finance and information technology, along with certificates in market research, data analytics, entrepreneurship, and leadership. Marinelli is a member of the Gerald P. Buccino '63 Center for Leadership Development. "When I was a freshman, I made it a personal goal to create a startup before I graduated. Fast forward four years, Pirates Pitch has given me that opportunity. The Center of Innovation and Entrepreneurship and alumni have been incredibly helpful in being mentors for this program and is truly setting me up on the path to success," Marinelli said.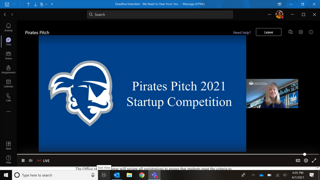 David Farrelly won $5,000 in seed funding for his business venture Action Hearth which is a virtual reality arcade. It exists to provide virtual reality entertainment to inspire confidence and promote optimism in people's everyday lives. Farrelly is a senior focused on earning a degree in business administration and business law. He has operated his own disc jockey business for six years. Farrelly has also expanded into other events production since his internship at the Times Square Alliance. In addition, he is working on immersive production mediums using virtual reality and podcasting by drafting development codecs to enhance digital surround. "I am a big fan of virtual reality gaming but the expense of VR headsets and related equipment is out of the reach of most teens and young adults in my target market. Action Hearth is reinventing the gaming arcade with pop up storefronts and mobile models that can reach a wide array of consumers at a lower cost and with social distancing," Farrelly commented.
Christian Patlan, founder of the Kevin Alexander Company, plans to design and sell male cosmetic tools that help men with skin imperfections, blemishes, and unwanted tattoos feel more confident. He was awarded $3,000 to help launch his idea. Patlan is from Leon, Guanajuato, Mexico, and has lived in California and Utah since immigrating to the United States. Patlan will receive a Master of Arts in diplomacy and international relations as well as a Master of Business Administration with specializations in Latin America and the Caribbean and management when he graduates in May. At the competition, he stated, "Our mission is to break the taboo of cosmetics for men by offering discreet and innovative male cosmetic tools designed to help men feel comfortable in who they are and what they look like."
Annabella Robb was awarded $1,000 for her business known as Annabellacures. It is a custom press-on nail business that offers trending nail designs, character nails, and even portrait nails. The business was launched in September of 2020 offering luxury hand-painted designs without the high price. Robb is a junior from Maywood, NJ. She is majoring in graphic design and minoring in art history. She is highly passionate and shared, "This experience has really pushed me to look at the logistics behind my business and I'm really grateful for that. It is a fast paced program that has been both challenging and rewarding."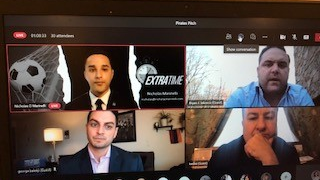 Students are quizzed by judges about their startup ideas at Pirates Pitch.
As part of their awards, the student entrepreneurs will receive pro bono legal services from attorneys Christopher Santomassimo and Anthony Davis and their staff at Santomassimo Davis LLC, a law firm with offices located in Parsippany. "We are very grateful to Santomassimo Davis for serving as a Pirates Pitch sponsor for two years in a row," said Susan Scherreik, founding director of the Center of Innovation and Entrepreneurship.
Furthermore, to encourage the student entrepreneurs to continue to develop their startup business models, each finalist can earn an additional $1,500 in venture seed capital by participating and successfully completing the eight-week Pirates Launch Pad virtual summer accelerator program. This workshop, hosted by the Center of Innovation and Entrepreneurship, is a wonderful way for budding entrepreneurs to get their businesses rolling.
Scherreik expressed her pride in the student teams during the event. "These young entrepreneurs demonstrated passion and drive as they overcame many obstacles to compete in Pirates Pitch. That growth is a reflection of both the limitless creativity and ingenuity of Seton Hall students and the planning and support of all of those involved," she said. She mentioned how the four finalists worked remotely to write their required business plans and created five-minute videos that they submitted to the judges in advance of the contest. At the event, the students pitched live in the virtual format, and then fielded questions from the judges.
The alumni investor judges were:
Bryan Jakovcic '09, President and Owner, Fusion Health
Abe Kasbo, CEO of Verasoni Worldwide and Chair of the Board of Advisors for the Center of Innovation and Entrepreneurship
Pravina Raghavan '01, Executive Vice President, Division of Small Business and Community Economic Development at Empire State Development
Gabino Roche Jr. '98, CEO and Founder, Saphyre
During the competition, the judges shared how impressed they were with the caliber of the students' ideas, the effort they put into their business plans and pitch presentations, and their poise during the question and answer sessions.
"You are all very passionate about your businesses. You have done a great job and you all have what it takes to be very successful in life," noted judge Jakovcic during the contest.
"Pirate Pitch is one of the most exciting student entrepreneur events in the United States and I am honored to support this annual contest as a judge," Kasbo added.
Categories: Business , Nation and World