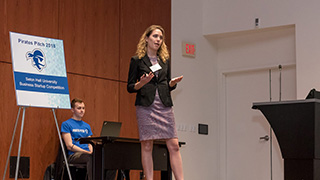 Do you dream of appearing before a panel of investors to pitch your startup idea and win their support and dollars? Four student entrepreneur teams will get a chance to see that dream come true, Seton Hall University style, when they compete for a total of $16,000 in seed funding from a panel of investor-judges at the ninth annual Pirates Pitch Startup Contest.
The competition will be held on the evening of Wednesday April 3 from 6-8 p.m., in Jubilee Hall Auditorium. The event is open to students, faculty, alumni, parents and members of the community. What's more, well-known sportscaster John Fanta '17, will serve as emcee for the evening. Fanta, on air talent for the Big East Digital Network and Fox Sports Network, also hosts a weekly men's basketball show named "Shootaround," featuring behind-the-scenes, in-depth stories from the Big East Conference's 10 member schools. Register Now »
"This is a new format for our competition that we believe will truly capture the excitement of entrepreneurship," said Susan Scherreik, founding director of the Center for Entrepreneurial Studies in the Stillman School of Business. "Instead of awarding first, second and third place prizes as we have in the past, our judges will act like investors and award the $16,000 in prize money immediately after each team of aspiring entrepreneurs finishes its pitch. After questioning each team, the judges will determine the award. Although the amounts awarded to each team will differ, all teams will obtain funding. The judges will evaluate the teams on their perceived ability to execute the idea and turn it into a viable, profitable business. "One of the goals of our entrepreneurship education program is to create an environment where students can live like entrepreneurs, and this format mimics the process entrepreneurs experience when they raise funds from venture capitalists and other investors," she added.
"Over the years, I've been so impressed to see the quality of these student pitches and the wide range of startup ideas that are advanced," said Joyce Strawser, dean of the Stillman School of Business. "It's clear that the student finalists benefit greatly from the mentorship they receive from seasoned entrepreneurs as they prepare for the formal presentations. In all, our Pirates Pitch tradition beautifully exemplifies the Stillman School's mission goal of transforming concepts into practice," Dean Strawser added.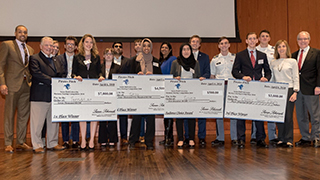 The contest kicked off in January when interested students attended a series of workshops and mentoring sessions. Each team then submitted a two-page Executive Summary outlining its idea. Of the 15 startup ideas submitted by students throughout the University, four teams were chosen with the assistance of alumni entrepreneurs. The startup ideas were evaluated based on several criteria, including originality, viability and growth potential.
The startups in this year's competition vary widely and the aspiring entrepreneurs on the teams represent a variety of academic disciplines, and include undergraduate and graduate students. Teams are permitted to be comprised of one to six Seton Hall University students. The contest is open to all students at the university.
The Student Entrepreneur Teams
Care Call. Freshmen nursing students Allison Lamoureux, Katie Mazzarelli and Annemarie Ryan are the pitch team for Care Call. The support team is comprised of Patricia Esposito, Isabel Finan, Gary Kraft, Julia Skerratt and Isabella Valentino. Care Call is an innovative I-Pad like product being developed to replace the old-fashioned hospital care bell patients used to signal for assistance. Care Call will enable patients to communicate their exact need and will quickly rout messages to the appropriate staff members in the hospital, reducing patient waiting time and making nursing procedures more efficient.
Flock. This app is being developed by Seniors Peyton Elder (environmental studies concentration and certificate in supply chain management) and Olivia Finan (marketing concentration). Flock will allow consumers to instantly compare the prices and wait times for delivery food services such as Uber Eats and Grub Hub.
Sincere Sitter. M.B.A. student Alissa Lopez (marketing concentration) has worked part-time as a babysitter for the past seven years. That experience led to Sincere Sitter, an innovative business idea that utilizes both a website and an app to connect caregivers and parents through personal social networks, and offers exclusive training and reviews for both to ensure positive child care experiences.
Sprouts Analytics: The emerging cryptocurrency market is the focus of Sprouts Analytics, the startup being developed by Juniors Steven Catudal, (finance and information technology services concentrations), and Elizabeth Win, (marketing and information technology services concentrations), and Senior Nathanael Boatswain (financial mathematics and information technology concentrations.) Spouts Analytics aspires to be the Bloomberg Data Service for cryptocurrencies, providing real-time data and news feeds to cryptocurrency investors.
Judges
The judges are: Michael Lucciola '83, CEO, Firefly Group and SHU Regent; John Auriemma, '81, founder and CEO American Wear; Pravina Raghavan, M.B.A. '01, Executive Vice President, Division of Small Business and Community Economic Development Empire State Development; and Taseen Peterson, '14, founder, Gamefuly.
Ahead of the contest, faculty and alumni mentors will provide feedback and guidance as the teams continue to develop viable business models and hone their pitches for April 3.
Successful Student Entrepreneurs
Thanks to this intensive mentoring and support, several students who have participated in Pirates Pitch over the past nine years now run successful businesses. For example, Luciana Contuzzi '13, who won first place in the inaugural Pirates Pitch contest in 2010, is the founder of Zest, a gluten and dairy free baked good business and café in Fairfield, N.J. Meanwhile, Christian Zeron '16, won first place in Pirates Pitch as a senior with Theo and Harris, his online vintage watch retailer, today sells $2 million worth of watches annually. Additionally, Taseen Peterson, one of this year's judges and a past Pirates Pitch winner, was also was the first place winner in the national digital startup contest Student Startup Madness in 2014. Today, Peterson's latest startup, Gamefuly, was recently selected to participate in the TechStars accelerator program.
Pirates Pitch helps to foster an entrepreneurial mindset. "In today's fast-paced and changing world, every college graduate needs the skills to be an innovative self-starter," she said. "So whether a student watches Pirates Pitch as a member of the audience, or is a participant in the contest, he or she is learning about the process of entrepreneurial innovative and creativity. These skills can be utilized in all types of career endeavors."
Entrepreneurial Offerings
Moreover, Pirates Pitch has been so popular that the University now runs a high school version of competition. In the four years that Pirates Pitch for High School students has operated, there were more than 1,000 applications from the U.S. and foreign countries. Additionally, the Stillman School of Business now offers an entrepreneurship concentration. The Center's latest effort is an entrepreneur boot camp being launched this summer. All undergraduate students are invited to apply to the no-cost boot camp, although enrollment will be limited to 20 students.
Categories: Business