Wednesday, March 31, 2021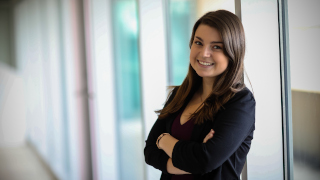 U.S. News & World Report's 2022 Best Graduate Schools ranks the Stillman School of Business part-time M.B.A. program 73rd in the nation, rising 12 spots from last year and placing the program in the top 75.
"The Stillman community is proud of this continued increase in our M.B.A. ranking – a strong external affirmation of the caliber of Stillman's curriculum, faculty and students," said Joyce Strawser, Ph.D., dean of the Stillman School. "Our program's success is a credit to our faculty's commitment to delivering relevant and impactful learning experiences and to the valuable contributions made by our alumni partners, who serve on our advisory boards, contribute to our classroom experiences and provide important professional connections for our graduates."
The School is ranked among the select M.B.A. programs accredited by the Association to Advance Collegiate Schools of Business (AACSB International) — the highest standard of achievement for business schools and earned by only 5 percent of schools worldwide granting business degrees at the bachelor's level or higher. Only 189 of these select schools maintain supplemental accreditation in accounting, with the Stillman School of Business among them.
"The intense peer-review process confirms a school's continued focus on excellence in all areas, including teaching, research, curriculum development, and student learning. The Stillman School's dedication to delivering high quality business education will create the next generation of great leaders," noted Stephanie M. Bryant, executive vice president and chief accreditation officer of AACSB International, in 2020 when the Stillman School maintained its AACSB dual accreditation.
With a focus on applied learning, the bookends of the 40-credit program begin with the "M.B.A. Launch Experience," an immersive two-day program, and conclude with a team-consulting project with real client engagement. In between, students learn business principles via a Spotlight Company, choose from among eight specializations while being taught by dedicated, top-notch faculty and practice partners from Fortune 500 organizations.
The M.B.A. program caters to working professionals offering a flexible schedule which includes evening classes as well as flexible delivery formats such as on campus, online and hybrid program options.
"The Stillman School has made me more confident and excited about my career than ever. I've sharpened my analytical thinking, worked on engaging teams and contributed to real-world projects—all experiences that help me stand out professionally," said Samone Rowe, an M.B.A. student pursuing a specialization in marketing and a graduate assistant for the School's Market Research Center.
Factored into the 2022 U.S. News rankings are a peer assessment score, average GMAT/GRE scores, average undergraduate GPA, number of years of work experience and part-time M.B.A. enrollment. The School experienced an increase in average peer assessment score, which is based on survey responses from business school deans and MBA program directors at the other part-time programs.
Among area universities Seton Hall is ranked ahead of Montclair State, Fairleigh Dickinson, Monmouth and NJIT as well New York's St. John's University and Hofstra.
In the fall, the M.B.A. program was also nationally recognized when Stillman was named a "Best Business School" by The Princeton Review for the 14th consecutive year. 
To learn more about the Stillman School's accredited, top-ranked M.B.A. Program, attend an upcoming Webinar, or schedule an appointment to speak directly with a representative of the Admissions Team.
Categories: Business , Education , Nation and World