Friday, September 9, 2022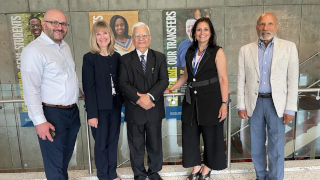 Director of BIMTECH Anupam Varma (center) visited campus this summer to discuss possibilities for greater collaboration with Seton Hall, meeting with (left to right) Associate Provost Christopher Cuccia, Dean Joyce Strawser, Provost and Executive Vice President Katia Passerini, and Professor of Management A.D. Amar.
The Stillman School of Business, through its "Doing Business in India" study-abroad program, has engaged with Birla Institute of Management Technology (BIMTECH) for several years, with visits to BIMTECH featured regularly as part of the program's tour of North India. With greater emphasis placed on expanding upon study-abroad opportunities for students under the Seton Hall's new strategic plan, Harvest Our Treasures, Stillman seeks to develop an even stronger relationship with BIMTECH, as well as with our other international partners. 
BIMTECH is an AICTE (All India Council for Technical Education)-approved independent business graduate institution located in Greater Noida, a suburb of New Delhi. The institute is accredited by the National Accreditation bodies in India, NAAC (A+) & NBA. With its focus set on business practice, BIMTECH engages in consultancy and training in business management, insurance management, international business, and retail management. It offers doctorate programs in the areas of business and management. BIMTECH is the first business school in India to have been awarded the Business School Impact System (BSIS) label by EFMD. Under the Atal Innovation Mission of the Government of India, in June 2017, BIMTECH was selected to set up an incubation center that began its operations on January 20, 2018. 
The Stillman School and the Office of the Provost were honored to host Anupam Varma, D. Phil., director of BIMTECH, for a campus visit in July 2022 to discuss possibilities for greater collaboration between the two institutions. Initiatives that were discussed included exchanges of faculty, staff, and students; joint research projects and academic publications; virtual collaborative student projects; and short study-abroad opportunities at our respective institutions. While on campus, Dr. Varma toured Seton Hall's new International Center, located on the first and second floors of Jubilee Hall, which houses both the Office of International Programs and English as a Second Language program.
Dean of the Stillman School of Business Joyce Strawser, Ph.D., noted the important similarities between the missions and foci of the Stillman School and BIMTECH. "BIMTECH's mission goal of developing ethical leaders is right in line with Stillman's commitment to providing an ethics-centered education, and both our schools prioritize applied learning and strong connections to practice." She added, "I am grateful to Stillman's Professor of Management Dr. A.D. Amar for cultivating this relationship with BIMTECH and encouraging even deeper collaborations with the institution."
BIMTECH and Seton Hall have since signed a formal Memorandum of Understanding (MOU) that articulates their mutual interest in academic collaborations. 
"We are especially excited about exploring possibilities for our students and faculty to work with the entrepreneurs and mentors at BIMTECH's Incubation Center," said Katia Passerini, Ph.D., Seton Hall's provost and executive vice president. "The opportunity for our students to participate in a global innovation and business creation process would be an incredible addition to our portfolio of applied-learning experiences."
Categories: Business