2018 Pirates Pitch winner Madison Schott (center) with Professor Susan Scherreik and Stillman Dean Joyce Strawser.
Six teams of college entrepreneurs recently faced off at the finals of the Stillman School of Business' eighth annual Pirates Pitch venture fund competition. The student teams vied for $15,000 in cash prizes as well as business resources to grow their startups, presenting their ideas before a Shark Tank-like panel of judges from the business community.
This year's Pirates Pitch final featured startup companies and business ideas ranging from the commercial applications of virtual reality technology and an investment group solely trading cryptocurrency to a company that sells vintage soccer cleats.
The Stillman School's Madison Schott, a senior studying mathematical finance, won the grand prize of $7,000 at the event, which was sponsored by the Center for Entrepreneurial studies. Second place and $4,500 (plus $500 as the "Audience Choice" winners) went to the team of Walla Elshekh, who is majoring in political science, and Nasima Nagim, who is majoring in accounting and finance. Patrick Burd, majoring in management and marketing, won the third place prize of $3,000.
Schott's award-winning startup is based on the application or "app" called Trenditure. Schott plans to invest the winnings to create a platform for the mobile app that will use trending topics on a user's Twitter account to create book suggestions based on those topics. In addition to winning this year's Pirates Pitch, Schott will represent Seton Hall University in New Jersey's UPitch, a college venture startup competition open to undergraduate students, on April 20, 2018 at Montclair State University. Schott will pitch her idea against teams from 13 other universities for the chance to win additional prize money and business services.
"Pirates Pitch is a great opportunity because it encourages students to act on their ideas. I always had the idea for Trenditure and the competition was a great incentive for me to finally get started with it," said Schott. "The mentors, events held by the Entrepreneurship Club and Professor Scherreik really provided me with all of the resources and advice I needed to create my business plan and pitch."
Second place winners Walla Elshekh and Nasima Nagim pitched the idea of creating a line of clothing for women looking to dress professionally— and modestly. The team plans to market to women dissatisfied with current fashion options and plans to invest their award money of $5,000 to begin a small batch production.
Classic Soccer Cleats is the startup of third place winner Patrick Burd. Established for more than a year now, the company sells classic, rare and vintage soccer cleats and Burd, a Stillman senior, has more than $100,000 in sales thus far— money he uses to cover the cost of tuition.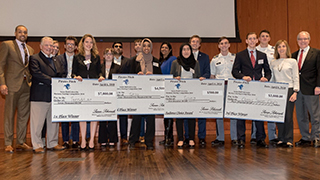 These three winning teams will receive professional assistance such as legal and marketing services to further grow their business and enter or continue in their industries with a competitive edge.
Also helping them to gain that edge will be the event's judges, four of whom are Seton Hall alumni. The judges included: 
Thomas Basilo '71, Partner at WithumSmith+Brown
Ray Hoffman, Host of CEO Radio on WCBS 880 
Shannon Morris '92/M.A.'94, President of Sigma Group 
Pravina Raghavan, M.B.A.'01, Senior Advisor in the U.S. Department of Commerce 
Tyrone Ross '02/M.A.'06, Managing Partner at NobleBridge Wealth & Asset Management Services
Pirates Pitch judge Tyrone Ross, who studied business and corporate communications at Seton Hall, was impressed with the work the students had put into their presentations and credits Pirates Pitch for its practical applications.
Tyrone Ross speaking shortly after the student pitches.
"The Pirates Pitch competition is a great framework for entrepreneurs to get an idea of what it is like to properly present and pitch their companies. It also serves as a real live test of having to defend your product and vision to a diverse panel of judges who are looking for something different from the entrepreneurs," said Ross. "This will serve them well when they have to pitch to investors for the necessary capital to scale their companies."
Other finalists this year included Jonathan Soyka of The Life Garden as well as Alan Josefsek, Aurora Kochersperger, and Jared Rasheed of Altech VR. Sprouts Investments was pitched by sophomore Steven Catudal, who partnered with West Point cadets Luc Barbe and Jack Lucie.
This year's competitors join an impressive list of past Pirates Pitch participants and winners including Ryan Skolnick '17, CEO of Aveho Learning, an immersive language learning video game software company, and Christian Zeron '16, founder of Theo & Harris, a vintage watch company that surpassed $1 million in sales this past year.
Susan Scherreik, founding director of the Center for Entrepreneurial Studies, is proud of the quality of ideas and pitches students created for the competition.
"All of the student finalist teams did a terrific job pitching their startups. We are very proud of them and they all deserved to win," said Scherreik. "The hallmark of a Seton Hall University education is putting theory into practice, and these entrepreneurship students excelled at turning concepts they had learned in the classroom into viable business ideas."
Joyce Strawser, dean of the Stillman School of Business, echoed Scherreik's excitement after this year's competition.
"The pitches this year were truly impressive, both in terms of the robustness of the business plans and the professionalism of the presentations," said Strawser. "I am grateful to our mentors for the excellent work they did advising our student competitors. In all, it was a huge success for our Center for Entrepreneurial Studies."
Professor Scherreik and Pirates Pitch affiliates are already looking forward to the 2019 competition and the opportunity for students to pitch their original and innovative ideas to further grow their businesses. The Stillman School of Business hopes to continue to develop the entrepreneurial spirit for all Seton Hall students throughout the coming years.
You can see a NJ News 12 feature on Pirates Pitch here.
Categories: Business
---
Pirates Pitch 2018