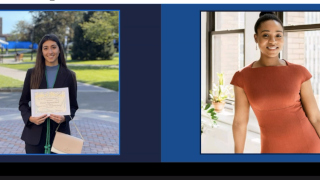 Pennie Papamichael and Samone Rowe, Student of the Year Award Recipients
Recently, the Market Research Center at the Stillman School of Business hosted its sixth annual Pair Up with the Pirates: Networking & Awards Reception. The event was co-hosted by Graduate Student Samone Rowe and Undergraduate Julia Boivin. Rowe was also one of two students awarded the Student of the Year Award, along with Pennie Papamichael. 
Students, business professionals, and other members of the Seton Hall University community had the opportunity to meet on Microsoft Teams. This year marked the second time the event was held virtually.
There were two networking activities during the awards reception recognizing business partners for their outstanding Market Research and Business Consulting projects. This year's honorees included Sherry Fox (Intellus-Health Literacy Initiative); Don Dixon (Cannata Group); and Ken Peach (Health Council of East Central Florida).
Adam Warner, director of the Market Research Center, stated, "Pair Up with the Pirates is a wonderful celebration recognizing outstanding partnerships between businesses and the University."
Market Research Center Advisory Board Member Ed Dinicola was given the Center's annual Key Contributor Award in recognition of his dedication to students and the market research program at the Stillman School of Business. Students were also honored for their exceptional work on the projects, including Brian Sumereau '21, Roseanne Lufrano '21 and Kerry Houston '21. 
Since the Market Research Center was founded in 2010, approximately 350 semester-long projects have been completed for a wide variety of businesses, such as nonprofits, start-ups, and global industry leaders including Goya Foods, Merck Animal Health, and the United States Army. More than 1600 students have worked with over 175 business partners on these projects.
For a brief overview of Market Research Center projects and how businesses benefit, view the Center's Impact video. If interested in learning more about the Market Research Center for a Fall 2022 project, apply by June 25.
Categories: Business