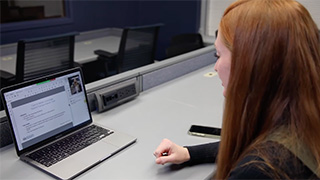 Kerry Houston, M.B.A. graduate student, consulted with Ken Peach, Executive Director of the Health Council of East Central Florida, to expand their health initiatives throughout the pandemic.
The Market Research Center gives students an opportunity to participate in real-world research and consulting. This exposure to real projects often leads to close relationships between students and business partners. One offering of the Market Research Center is the capstone Business Consulting course for M.B.A. students, which offers a chance to turn concepts into practice by solving current business issues for clients.
One recent success story was the partnership between Seton Hall M.B.A. students and the Health Council of East Central Florida. The state of Florida has 11 unique 501(c)(3) Health Councils covering all 67 counties in the state. The Health Council of East Central Florida covers four main counties in the local area.
The Health Council of East Central Florida came to Seton Hall to see how they could feasibly expand an existing program which allowed paramedics to work with patients in their homes to manage chronic health diseases.
With the project starting back in the Fall 2020 semester, it allowed the students to work with Ken Peach '76, the council's executive director, and learn more about the activities of the council to determine improvements in their operations going forward. Peach had a great experience at Seton Hall as a communications major and was involved with WSOU, engineering Pirate basketball broadcasts. He was one of many family members to attend Seton Hall and even met his wife of 44 years during his time here. 
After receiving an email about the Business Consulting projects, Peach relished the opportunity to partner with his alma mater on this important initiative. He enjoyed working with the students and was impressed with their business acumen as a result of the M.B.A. program, stating, "My experience was terrific from start to finish. The students were very friendly and inquisitive. They did a superb job of assessing our needs and what the opportunities were." 
As a result of the project, the Health Council of East Central Florida has moved forward with several exciting new initiatives. Peach remarked, "The project opened up our board's view of what could be done and how we could modify and improve our services." Based on the students' recommendations, the Health Council started delivering meals to individuals who are food insecure and testing homes for radon. 
In February 2023, they formed MobileMedix Plus, a new for-profit company owned 10% by the Health Council that is now working with multistate physician groups in order to expand. The students' findings prompted Peach and his associates to move forward with the program. Ken stated, "The project helped us to see how these recommendations would play out and prompted us to move forward with the for-profit company."
This spring, the Market Research Center at Seton Hall University will host its seventh-annual Pair Up with the Pirates Networking and Awards Reception on Thursday, April 13 starting at 6 p.m. Ken Peach and the Health Council of East Central were recently honored as the Distinguished Business Partners of the Year at the 2022 Pair Up with the Pirates event. Learn more about their story here.
Students from all concentrations will have the chance to meet business partners like Ken Peach who are looking for aspiring market research professional to help their businesses. For more information about Pair Up with the Pirates and to register for the event, click here.