Tuesday, November 24, 2020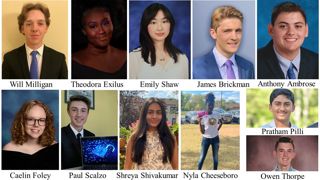 Eleven finalists competed in the sixth annual High School Pirates Pitch.
Competing for $50,000 in prizes, 11 innovative student entrepreneurs pitched their start-up concepts or fledgling businesses at the sixth annual High School Pirates Pitch, a Shark Tank-style competition hosted by the Stillman School of Business' Center for Entrepreneurial Studies. 
Shreya Shivakumar, an Edison, NJ senior attending John P. Stevens High School earned first place for Nourish America. Paul Scalzo, a Fairfield, NJ junior attending Saint John Vianney High School, took second place, pitching Best Defense Solutions. With more than 500 audience members, the event was live streamed on Microsoft Teams.
"It was truly inspiring to see the talent and creativity of these young entrepreneurs as they ably supported their business concepts during the presentation and Q&A segments. Even in a virtual format, this competition continues to celebrate young entrepreneurs and encourage them in their endeavors, demonstrating the adaptability and creative problem solving skills that make entrepreneurship such an important part of the business world today," said Joyce Strawser, Dean, Stillman School of Business.
Shivakumar's winning idea is an already operating 501 c(3) non-profit organization, dedicated to providing gluten-free and allergy-friendly food to people in need through food drives, awareness campaigns and youth advocacy. She mentioned in her pitch that she was inspired to start Nourish America because she and her family struggled with food insecurity, so she knew how important the issue is firsthand. Her winning pitch earned her a $10,000 scholarship to Seton Hall and a $2,500 cash prize.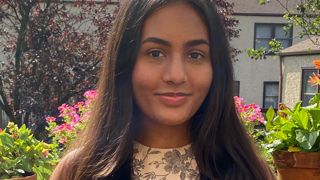 Shreya Shivakumar won first place for Nourish America.
"It's an honor to be selected as winner of the Pirates Pitch competition from a pool of talented young people. When I started Nourish America, I aimed to assist families living in food insecurity and I would like to thank Professor Scherreik and the judges for recognizing my passion for ending hunger. This win is a result of my perseverance and my team's hard work and is motivation for me to keep fighting hunger through Nourish America," said Shivakumar.
Scalzo earned second place with his pitch for Best Defense Solutions, a cyber security company focused on protecting educational organizations. Citing the lack of awareness about the dangers posed by hacking, Best Defense Solutions would perform extensive and thorough exams to discover potential threats to an institution's cyber security system and then would report its findings and propose solutions. For his start-up idea, Scalzo won a $6,000 scholarship to Seton Hall and a $1,000 cash prize. 
"I would like to thank Seton Hall University for giving me this amazing opportunity to not only challenge myself but to inspire me to pursue my dreams of one day starting my own company," said Scalzo. "The Pirates Pitch Competition allowed me to develop, plan and present an idea for a company close to my heart, and I could not be more grateful to Professor Scherreik, Dean Strawser, and the University for helping me chase my dreams!"
Theodora Exilus, a senior at Mount Saint Dominic Academy from Orange, NJ, won the Audience Choice Award and a $250 cash prize for her Charcuterie Chix pitch. 
Each student entrepreneur had five minutes to pitch their idea, either through a prerecorded video or a live presentation. Then, the finalists took five minutes to answer questions from the panel of judges, which consisted of Seton Hall faculty and alumni. The judging panel included: Ruchin Kansal, an associate director in the Buccino Leadership Institute and an expert in business innovation in biopharma; Christine Fowler-Phillips, an entrepreneurship and management expert specializing in corporate and personal branding as well as diversity and inclusion and the CEO/Founder of Discover Your Best Self LLC; and Ben Lowe, an entrepreneurship, finance and supply management expert and co-founder of five startup ventures. Also on the judging panel was Alissa Lopez, M.B.A. '19, CEO and founder of FamiliesDo Inc., founder of the Family Balance Planner, and a first-place winner in the Seton Hall collegiate Pirates Pitch competition.
"I was really impressed by how entrepreneurial-minded and how much grit these young students have. Many of the students have a big passion for helping the public, which I saw in pitches for businesses that could impact the community and improve people's lives. It was amazing to see this level of entrepreneurship from such a young group of students," said Lopez.
The competition aligns with Global Entrepreneur Week which occurred from Nov. 16 to 22. The 11 finalists were chosen from a field of 180 high school sophomores, juniors and seniors from 18 states and nations around the world, including Canada, Dubai, India, Nigeria, Singapore, Thailand and Turkey.
The High School Pirates Pitch is based on the Center's highly successful College Pirates Pitch Competition. The competition teaches high school students entrepreneurship basics and idea generation, recognizing and rewarding students with outstanding entrepreneurial know-how. Bringing them to Seton Hall's campus also exposes them to the Stillman School of Business, its Center for Entrepreneurial Studies, and its nationally ranked Center for Leadership Development within the Buccino Leadership Institute. 
"The young entrepreneurs who participated as finalists in the Pirates Pitch Competition for High School Students were the "best of the best" of high school students. It was a true pleasure to work with them as together we created our contest anew in a virtual format," said Susan Scherreik, founding director of the Center for Entrepreneurial Studies in the Stillman School of Business. "I was completely impressed by their talent, passion, creativity and confidence. They demonstrated the can-do entrepreneurial spirit that we need now more than ever to solve the many challenges the world faces today."
The remaining finalists received a $4,000 scholarship to the University. Finalists included:
Anthony Ambrose, a senior at Saint Augustine Preparatory School from Moorestown, NJ - Business Startup Idea: TCCR – The College Cafeteria Review
James Brickman, a senior at Don Bosco Prep from Wyckoff, NJ - Business Startup Idea: Harvest Capital
Nyla Cheeseboro, a sophomore at East Orange STEM Academy High School from East Orange, NJ - Business Startup Idea: Slay Baby Slay
Theodora Exilus, a senior at Mount Saint Dominic Academy from Orange, NJ - Business Startup Idea: Charcuterie Chix (Audience Choice Award recipient)
Caelin Foley, a senior at Delcastle Tech High School from Wilmington, DE - Business Startup Idea: First2College
William J. Milligan, a senior at Cherry Hill High School West from Cherry Hill, NJ - Business Startup Idea: Card Capital
Pratham Pilli, a junior at Montville Township High School from Montville, NJ - Business Startup Idea: Shard
Emily Shaw, a junior at West Essex Senior High School from Fairfield, NJ - Business Startup Idea: UpCycle
Owen Thorpe, a senior at Horseheads High School in Horseheads, NY - Business Startup Idea: Soccermetrics
Categories: Business , Education
---
High School Pirates Pitch 2020