In a virtual award ceremony hosted by Deborah Norville, anchor of Inside Edition, Ernst & Young LLP has named Bryan Jakovcic '09 of Fusion Health and Steve Gebhardt '06 and John Tramutolo '07 of RSVLTs among its Entrepreneurs of the Year, New Jersey 2020.
Ernst & Young is one of the largest professional services networks in the world and along with Deloitte, KPMG and PricewaterhouseCoopers is considered one of the "Big Four" accounting firms. It is considered a global leader in assurance, tax, strategy, transaction and consulting services.
Highly competitive, the Entrepreneur of the Year awards are divided into regions across the United States and the world; New Jersey, as a hub of commerce, qualifies as its own region for purposes of the competition.
According to Ernst & Young, the Entrepreneur of the Year program is in its 34th year and "honors entrepreneurial business leaders whose ambitions deliver innovation, growth and prosperity as they build and sustain successful businesses that transform our world."
Judged by an independent panel which includes "previous award winners, leading CEOs, investors and other regional business leaders" Ernst & Young states that "nominees were evaluated based on six criteria, including overcoming adversity; financial performance; societal impact and commitment to building a values-based company; innovation; and talent management."
Fusion Health, Bryan Jakovcic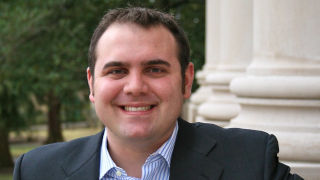 Jakovcic is the CEO of Fusion Health, the largest Electronic Health Record (EHR) vendor for State and County Department of Corrections and Juvenile Justice Agencies in the United States with a patient base of more than 300,000. Headquartered in Woodbridge, New Jersey, Fusion employs more than 100 people throughout the nation.
Named for the fourth year in a row to the INC. 5000 list of the fastest-growing private companies in America, Fusion Health recently acquired Kalos Inc., a leader in pharmacy management solutions nationally recognized for its proven software in retail pharmacies, universities and correctional facilities.
On the Inc. 5000 Fusion was ranked #818 in America, 19th in New Jersey and 16th in IT System Development. The acquisition of Kalos will allow Fusion to further expand and diversify its markets and product offerings.
Jakovcic started Fusion Health while still a student at Seton Hall where he, a member the Center for Entrepreneurial Studies, served as the president of Entrepreneurship Club.
"We are extremely proud of Bryan Jakovcic and his achievements. He started several businesses while he was still a student at Stillman. Like all true entrepreneurs, Bryan's drive, passion and can-do attitude have helped to fuel his impressive success. He is a terrific role model for our students, and they get a chance to meet with him through his involvement with our summer entrepreneur boot camp and accelerator programs, and at our startup contests. Bryan is a shining example of a Seton Hall University servant leader" says Susan Scherreik, founding director of the Center for Entrepreneurial Studies.
Now a member of the Board of Advisors for the Center for Entrepreneurial Studies, Jakovcic credits Seton Hall and the Center for much of his success.
"My time at Seton Hall and the Center for Entrepreneurial Studies cemented for me a lifelong pursuit of business. It taught me to actively seek out opportunities in underserved communities and offer viable solutions" said Jakovcic. "And the medical care of inmates was one of the most underserved and poorly managed communities I had ever seen. Through EHR we've been able to streamline management and offer a continuum of care and preventative wellness that prioritizes the health and safety of patients and effectively reduces the cost of healthcare delivery" he noted. "Essentially, we've found a way to give more for less – and the market has responded accordingly. I'm deeply honored for us to now be recognized by this distinguished panel and Ernst & Young."
Steve Gebhardt and John Tramutolo of RSVLTS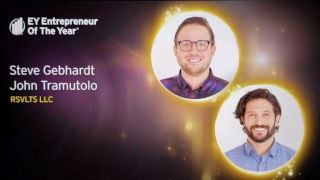 RSVLTS (Roosevelts without the vowels) is an apparel company based in Hoboken, NJ that was essentially born of a cease and desist letter from a major movie studio.
Pivoting from their internet publishing company, Coed Media Group, the pair of former Communication & the Arts students began in apparel by depicting a graphic and copy from the classic resuscitation scene in the "The Sandlot." The shirt began to sell briskly and the response was favorable— except from the movie's maker, Twenty-First Century Fox Inc.
Although for many the cease and desist letter for copyright infringement from Fox may have been the beginning of the end, for Gebhardt and Tramutolo it was the beginning of a multi-million dollar company that regularly hires Seton Hall grads and interns and has superstars like Aaron Judge and Bryce Harper wearing their clothing.
Gebhardt says that Fox was impressed with the quality of their product, so the media giant negotiated and ultimately granted the startup company licensing rights. Since then RSVLTS has sought out and come to licensing agreements with movies such as Rocky, The Shining, Ace Ventura and Ghostbusters; television shows including Always Sunny in Philadelphia, Parks & Recreation and Shark Week along with WWE, MLB and Pixar Studios. With three strong quarters in 2020 in the rearview mirror, and with holiday season still ahead, they're projected to eclipse eight figures in sales by year-end.
At Seton Hall Gebhardt concentrated in public relations and marketing while Tramutolo studied advertising and advertising design.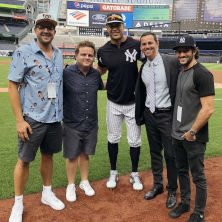 Spring, 2019
"We were so thrilled with the recent EY award, it's a great honor to be recognized in that manner and also to join that fantastic growing entrepreneurial community" said Gebhardt, who was wearing a Seton Hall Pirates shirt designed by RSVLTS during the Ernst & Young virtual winner's toast. "RSVLTS started with a dream to make unique apparel our friends would wear, especially among our Seton Hall family, and that would start a conversation whenever spotted, which quickly caught on beyond our own community. In many ways we feel this is just the beginning for the company too, so we're extremely excited for all the plans we have ahead."
Co-founder John Tramutolo, agreed: "We're very appreciative about how supportive our Seton Hall alumni community has been over the years, and we always strive to give back however we can as well. We're proud to say a good portion of our staff, as well as a number of freelancers, are Seton Hall alums. It's been an incredible journey together."
As regional winners, Jakovcic as well as Gebhardt and Tramutolo are eligible for consideration for the Entrepreneur of The Year 2020 National Awards, to be announced Thursday, November 19, during a virtual awards gala.