The networking group at the Seton Hall Men's Basketball Game on February 19, 2020.
On February 19, the night of Seton Hall's thrilling buzzer-beater against Butler, Professor Michael Gordon '06, J.D. '09, an instructor for the Stillman School of Business, and his ADP colleague Joe Testa, a member of the Seton Hall Alumni Board of Directors, were not only cheering the men's basketball team on to victory, but were also cheering on a group of Seton Hall students as they put their networking skills to the test with a host of professionals and alumni at the Prudential Center in a rather unique and creative way.
As part of their "Baskets and Business" initiative, Professor Gordon invited students from his undergraduate Business Law class to join him at both the Michigan State and Butler games to network and connect with alumni and professionals in a fun and informal way. It began as a simple idea in Professor Gordon's Fall 2019 Business Law course, which just so happened to include one of the men's basketball team's star players, Romaro Gill. As part of Professor Gordon's curriculum, students are encouraged to discuss and practice career readiness with one another on a weekly basis. Wanting to both cheer on his student in Gill and allow the entire class to take their networking skills from the classroom to the real-world, Professor Gordon coordinated with the Pirate Blue Athletic Fund to bring his class to the Prudential Center and organized a dedicated space in which to network — the goal being to invite professional friends and colleagues to meet his students, socialize, and network in a fun and less intimidating way. Professor Gordon and Testa reached out to their professional and alumni networks and brought together a varied group of distinguished alumni and professionals for students to meet and connect with at halftime during both games.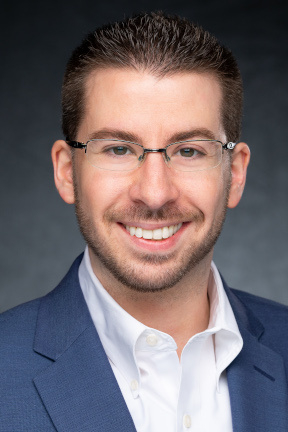 Professor Michael Gordon '06, J.D. '09
When asked about the event's importance and well-received success, Professor Gordon commented, "I try to consider myself relatively self-aware, and I've come to appreciate that networking and making connections does not come so easily to most of us, and it makes it even harder when the goal of the interaction is to do just that — formally network. I wanted to do something different here — organize a fun event where students and alumni could come together and watch some great basketball, share some laughs and high fives — and walk away knowing each attendee's true personality — not a regurgitation of a resume or an awkward elevator speech." With over 60 professionals, alumni, and students in attendance at the most recent iteration, the event was and continues to be a huge success, with students being joined by professionals from ADP, Johnson & Johnson, PricewaterhouseCoopers, CNN, Credit Suisse, Mott MacDonald, BP Americas, Acorn Financial, and the law firm of Chiesa Shahinian & Giantomasi PC, along with appearances by the CEOs of Alchemy Capital and The Guard Market & White Eagle Marketing. Distinguished Seton Hall guests including Professor Denis McLaughlin from Seton Hall Law, Dean Joyce Strawser and Dean Leigh Onimus, both from the Stillman School of Business, and members of Seton Hall's Advancement team also attended and helped foster this endeavor.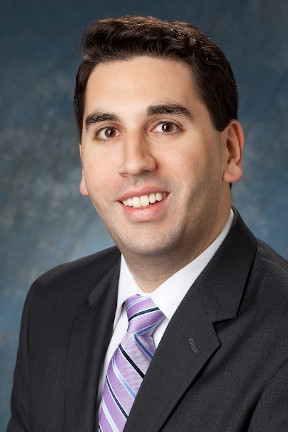 Joe Testa '12
Professor Gordon and Testa plan to hold similar events in the future in close partnership with the University Advancement team, the Pirate Blue Athletic Fund, and other campus partners, as well as in coordination with various corporate clubs and sponsors. The "Baskets and Business" initiative also spawned a corresponding LinkedIn Group — the "Seton Hall Baskets & Business Professional Networking Group" — to provide members career advice, networking tips, and updates on upcoming events in the future — and Professor Gordon and Testa welcome all to join!
If you are interested in participating in events like this in the future or learning how your company can connect with Seton Hall, please reach out to Norah Hatch, Associate Director of Corporate and Foundation Relations at norah.hatch@shu.edu.