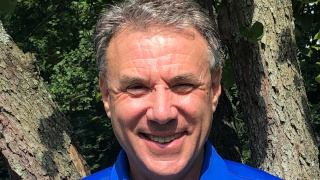 Visiting Professor Jay Liebowitz of the Department of Computing and Decision Sciences was awarded a U.S. Navy Summer Faculty Research Fellowship at the Naval Surface Warfare Center-Carderock Division (NSWC-CD) for Summers 2020 and 2021. Professor Liebowitz, who teaches in the Stillman School of Business' M.B.A. and online M.S. in Business Analytics programs, will focus his research on developing an enterprise-wide knowledge management strategy at NSWC-CD and metrics to measure the scientific and technical health of the Naval Surface Warfare Center (NSWC-CD).
Home to roughly 2,000 scientists, engineers and support personnel in more than 40 disciplines, the Carderock Division of the Naval Surface Warfare Center "addresses the full spectrum of applied maritime science and technology, from the theoretical and conceptual beginnings, through design and acquisition, to implementation and follow-on engineering. This includes all technical aspects of improving the performance of ships, submarines, military water craft and unmanned vehicles, as well as research for military logistics systems." Their mantra is "America's Fleet Starts Here."
No stranger to government service at its highest levels, in addition to his traditional academic appointments and prior Navy Faculty Research Fellowship, Professor Liebowitz served as the first Knowledge Management Officer at NASA Goddard Space Flight Center and Chair of Artificial Intelligence at the U.S. Army War College.
Author of more than 45 books and a myriad of journal articles, Liebowitz has been acknowledged as one of the top 10 knowledge management researchers/practitioners in the world (out of more than 11,000) and #2 in Knowledge Management Strategy by the Journal of Knowledge Management.
Although considered an esteemed pioneer in Knowledge Management, the focus of research for Professor Liebowitz has shifted in recent years toward the impact and synergies of intuition, AI and Analytics in executive decision-making. One of his most recent books, A Research Agenda for Knowledge Management and Analytics (2021), brings together leading international scholars and practitioners to examine Knowledge Management or "KM" from a multidisciplinary perspective, "leveraging the knowledge gained from Knowledge Management and from the growing fields of Analytics and Artificial Intelligence (AI), to highlight "the research gaps, issues, applications, challenges and opportunities related to Knowledge Management… and demonstrating the ways in which knowledge sharing worldwide can be enhanced in order to better society and improve organizational performance." Please click here to view the book.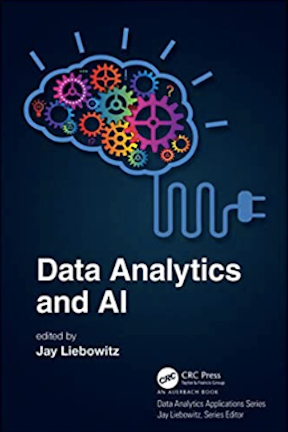 In another recent book, Data Analytics and AI (2021), Professor Liebowitz assembles some of the foremost authorities in both subjects in an attempt to "bridge the gap" of the two disciplines that grew essentially side-by side-but along somewhat separate lines. To do this he brings together academics and practitioners from across the globe to discuss, collaborate and communicate with each other and "to build the necessary synergies" between the disciplines of data science and artificial intelligence in both their theoretical and applied forms throughout business, industry, healthcare and academia.
In the book's preface Liebowitz writes,
As we continue to forge ahead in this data driven and cognitive computing/artificial intelligence (AI) era, the question is what is next? With the demands for data-informed decisions, coupled with machine/deep learning techniques, we see the development and use of AI-powered analytics. At the same time, experiential learning (what I call "intuition-based decision making") will also play an important complementary role in executive decision making.

We are witnessing tremendous growth in data analytics, data science, and machine learning, but there is still ample room for creativity and future development. Currently, the analytics and AI communities have been a bit siloed. As we move forward, the two communities should share a more common bond as the integration between the two fields is essential for advancing the current state of the art.
In another recent book, Developing Informed Intuition for Decision-Making (2020), Liebowitz stresses again the importance of intuition in tandem with data resources for executive decision- making (in 2019 he published How Well Do Executives Trust Their Intuition, which covers the Fulbright research study conducted by Liebowitz and the book's international team of editors).
Noting that "analytics + intuition = success," Liebowitz builds from his Fulbright research and espouses a "holistic approach to decision-making." He writes,
In these days of data-driven or data-informed decision-making, intuition seems to be lost in the discussion of how it can play a major role in everyday life, including executive decision-making. In some of my own recent research, however, we have found that directors and executives often trust and rely more on their intuition for decision-making than analytics. Even Einstein has many quotes that stress the importance of "imagination" over "knowledge," particularly highlighting that the "really valuable thing is intuition."
In the Spring 2021 and his first year of teaching at Seton Hall, Professor Liebowitz taught the MSBA Capstone course with a project from Fiserv (an American multinational Fortune 500 company that provides financial technology and financial services), and two sections of the MBA course, Quantitative Methods for Decision Making. He has also served in further developing the MSBA Distinguished Advisory Board where we have 13 key individuals from industry and government (our Spring 2021 meeting was held on April 22, 2021). During the next academic year, he will serve as the MSBA Co-Program Director (External Relations).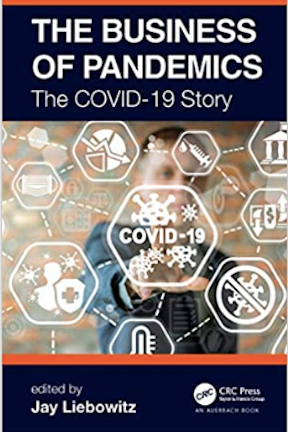 Besides the publication of a number of books on analytics, AI, knowledge management and intuitive decision-making this last year, Professor Liebowitz will give five keynote addresses at international conferences during 2021. He also recently published The Business of Pandemics: The COVID-19 Story, a unique and timely book with any editor royalties donated to the CDC Foundation to help fight COVID.
At Seton Hall, along with sport management MBA student Akhil Bhaskar, Professor Jay Liebowitz developed a model that enables candidates to match their current or anticipated skills with the skill requirements for a business analytics professional or data scientist. The resultant article, "Business Analytics Professional or Data Scientist?" was published in INFORMS Analytics.
Prior to coming to Seton Hall, Professor Liebowitz served as the Distinguished Chair of Applied Business and Finance at Harrisburg University of Science and Technology. He previously was the Orkand Endowed Chair of Management and Technology in the Graduate School at the University of Maryland University College (UMUC). He served as a Professor in the Carey Business School at Johns Hopkins University. At Johns Hopkins University, he was the founding Program Director for the Graduate Certificate in Competitive Intelligence and the Capstone Director of the MS-Information and Telecommunications Systems for Business Program, where he engaged over 30 organizations in industry, government, and not-for-profits in capstone projects.
Prior to joining Hopkins, Dr. Liebowitz was the first Knowledge Management Officer at NASA Goddard Space Flight Center. Before NASA, Dr. Liebowitz was the Robert W. Deutsch Distinguished Professor of Information Systems at the University of Maryland-Baltimore County, Professor of Management Science at George Washington University, and Chair of Artificial Intelligence at the U.S. Army War College.
Professor Liebowitz is the Founding Editor-in-Chief of Expert Systems With Applications: An International Journal (published by Elsevier). He is a Fulbright Scholar, IEEE-USA Federal Communications Commission Executive Fellow, and Computer Educator of the Year (International Association for Computer Information Systems). Dr. Liebowitz served as the Editor-in-Chief of Procedia-CS (Elsevier). He is also the Series Book Editor of the recent Data Analytics Applications book series (Taylor & Francis), as well as the new book series on Digital Transformation: Accelerating Organizational Intelligence (World Scientific Publishing). In October 2011, the International Association for Computer Information Systems named the "Jay Liebowitz Outstanding Student Research Award" for the best student research paper at the IACIS Annual Conference. Dr. Liebowitz was the Fulbright Visiting Research Chair in Business at Queen's University for the Summer 2017 and a Fulbright Specialist at Dalarna University in Sweden in May 2019. He has lectured and consulted worldwide.
Categories: Business , Education , Research , Science and Technology