Thursday, October 7, 2021
On Thursday, October 28, the Seton Hall University community and entrepreneurs from across the country will come together to honor two of the University's most successful innovators and changemakers: Frank T. Cannone, J.D. '91, chair, Corporate Group, Gibbons P.C., and Bryan J. Jakovcic '09, president and owner, Fusion Health.
Hosted by the Center of Innovation and Entrepreneurship, and emceed by John Fanta '17, College Sports Play-by-Play Broadcaster, FOX Sports, the 2021 Entrepreneur Hall of Fame induction dinner, will also honor the latest recipient of the Emerging Entrepreneur Award: Patrick Burd '18, founder of Classic Soccer Cleats. 
"We are looking forward to celebrating the achievements of this year's Hall of Fame inductees," said Susan Scherreik, founding director of the Center for Innovation and Entrepreneurship. "They have pursued different entrepreneurial paths, but they share an impressive record of success and a strong love of alma mater. Frank Cannone and Bryan Jakovcic are inspiring role-models for our students, whether they seek to launch a startup company or become 'intrapreneurs' who are innovators in their corporate jobs."
New this year, NFTs (non-fungible token) will accompany the physical awards received by Cannone and Jakovcic. This will be the first NFT award of its kind in Seton Hall history, and it is fitting that the Center of Innovation and Entrepreneurship is leading the way.
"The Center is a bastion for innovation and innovators and the NFT Hall of Fame Award is commitment by Seton Hall to continue to recognize positive change makers well into the future," shared Scherreik. "I am incredibly grateful to Verasoni Worldwide for donating the NFTs."
The dinner will take place at the Maplewood Country Club for anyone who would like to purchase a ticket to the event or become a sponsor.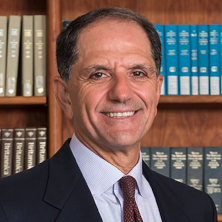 Hall of Fame Inductee Frank Cannone, J.D. '91
An exceptional "intrapreneur" at one of the nation's largest, most innovative law firms, Frank Cannone has built one of the region's top corporate practices, which has advised on thousands of transactions totaling billions of dollars in value. Under his direction, Gibbons has become unique among New Jersey headquartered firms with its sophisticated and complex transactional work and capital markets-based approach to corporate practice. He established Gibbons' governmental transactions, including public-private partnerships (P3); renewable energy finance; and early-stage businesses. He also expanded its leading cross-border transactions practice. He led the Corporate Group to high-profile recognition by DOW JONES Private Equity Analyst, National Law Journal, and Law360. Cannone, an honors graduate of Boston College and Seton Hall's School of Law listed in Best Lawyers®, New Jersey Super Lawyers, and Chambers USA, is a trustee for Seton Hall's School of Law and serves on the Center of Innovation and Entrepreneurship Board of Advisors. Learn more about Frank Cannone here.
Hall of Fame Inductee Bryan Jakovcic '09
Bryan Jakovcic has built Fusion Health from a college startup into a national health software provider for the corrections industry. With over 100 employees, Fusion Health has been recognized by Inc. magazine as one of the fastest growing companies in the United States. Jakovcic is especially proud of his efforts to foster an innovative and empowering workplace culture that delivers outstanding results. In addition to its "best workplace" accolade from Fortune magazine, Fusion Health has earned a Great Place to Work Certification. Jakovcic received an Ernst & Young New Jersey Entrepreneur of the Year award in 2020 and is an NJBiz 40 Under 40 winner. While studying finance at the Stillman School of Business, he was Entrepreneurship Club president. Jakovcic is a member of the Board of Advisors for the Center of Innovation and Entrepreneurship and has created the Bryan J. Jakovcic Fund, which provides seed grants for student startup ventures. Learn more about Bryan Jakovcic.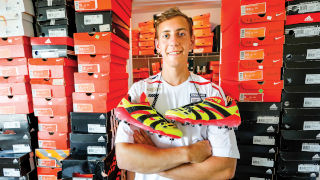 Emerging Entrepreneur Patrick Burd '18
Patrick Burd graduated Seton Hall with a marketing degree and was a member of the Men's soccer team. While playing soccer at Seton Hall, he turned a hobby of selling soccer footwear into a business, forming Classic Soccer Cleats. His passion for playing soccer started to dissolve, as he focused more on his new passion of becoming an expert in classic and rare soccer footwear. In 2020, he decided to follow his passion and focus on Classic Soccer Cleats full time. Classic Soccer Cleats has sold over $1million of soccer footwear to 5000+ customers in over 50 countries and has the world's most diverse collection of soccer footwear from the 90's-2010.
Added Scherreik, "This exciting event commemorates the vibrant entrepreneurial spirit in evidence in the Seton Hall University community."  
Categories: Business