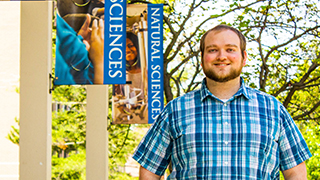 Brian Pulverenti stands apart from most of his classmates. A double major in English and Classics in the University Honors program and a servant leader, Brian was recently recognized by his peers as a "Great Mind."
Pulverenti's friend and classmate Aaron Varghese nominated him for going above and beyond the expectations of an already rigorous academic program. "Brian has a truly intelligent mind and always pursues his passion while striving to be the best he can be in his areas of interest," Varghese said. "Even though Classical Studies only requires a certain number of courses in Greek and Latin, Brian has taken these courses every semester of college just so he could have the best possible handle on these subjects."
On April 24, more than 300 Pirates took part in the first-ever "Great Minds on the Green" event hosted by the Office of Public Relations and Marketing. Inspired by Seton Hall's new "What Great Minds Can Do" branding campaign, the PR and Marketing office hosted a series of "brain game" competitions for students, faculty and staff on the University Green. The event also was held in in partnership with the Petersheim Academic Exposition.
At "Great Minds on the Green," students had the opportunity to nominate their peers, professors and administrators as "Great Minds" to be featured on the University's website "We want to make the Seton Hall community aware of the vast array of great minds we have on campus who are making a positive impact on the world through their research, scholarship and service," explains Dan Kalmanson, associate vice president of Public Relations and Marketing.
Pulverenti was selected as the student winner and chemistry professor David Laviska was chosen as the faculty winner.
Not only is Pulverenti an accomplished student but he also served his peers as a Tutor in Residence his junior and senior years. Pulverenti offered eight hours of free, drop-in tutoring on a range of subjects in freshman dormitories on campus. Pulverenti said, "I am proud of my time as a tutor because I was able to meet new people I wouldn't have otherwise met, and it helped me learn effective teaching strategies."
His experience as a Tutor in Residence will serve him well in his next steps after graduation. Pulverenti is moving to South Bend, Indiana, where he received a full scholarship to the University of Notre Dame's two-year graduate program in Classical Studies. Pulverenti also will work as a Teaching Assistant. "This transition is both exciting and nerve-wracking," Pulverenti said. "But I am confident that my time at Seton Hall has given me the skills needed to succeed in this next step."
Categories: Campus Life , Education