Thursday, January 14, 2021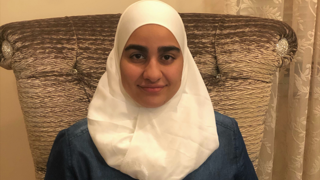 Lana Hannineh earned two scholarships for her contribution to research.
Lana Hannineh, a sophomore biology major and pre-med student in the College of Arts and Sciences, received a $2,500 PSEG Scholarship for Advancing STEM Majors. The scholarship recognizes her contributions to environmentally focused research conducted at Seton Hall.
Distributed through the Independent College Fund of New Jersey (ICFNJ), PSEG funds this scholarship to assist talented students with a committed interest in "building environmental stewardship and developing meaningful sustainability initiatives." 
Hannineh received the PSEG Scholarship for Advancing STEM Majors in late December, shortly after receiving an $1,000 scholarship from the IFCNJ to fund the environmental research she has worked on since her freshman year under co-mentors Sergiu Gorun, professor of chemistry and biochemistry, and Tinchun Chu, professor of biological sciences.
"The PSEG scholarship was so sudden, but it was a pleasant surprise," said Hannineh. "I appreciate the help of Professor Gorun who encouraged me to apply for the scholarship and pursue new opportunities at Seton Hall. Being able to work in top facilities with renowned researchers is such an incredible opportunity for which I am so grateful and from which I have already learned so much."
Working alongside Ph.D. candidates Mary Okorie (Chemistry) and Ayuni Yussof (Biology) and Seton Hall alumna and medical student Prabh Jassal, who pioneered the project, Hannineh and her team members research the use of light and air, instead of chemicals, to prevent the formation of biofilms. Biofilms, the basis of unwanted growth of algae and other biological organisms in various places, present issues in both chemistry and biomedicine.
The closure of Lake Hopatcong in northern New Jersey provides a recent example of the dangers of biofilm. The lake was closed in 2019 after a harmful algal bloom covered the surface and released toxins—endangering local wildlife, people and pets. Cyanobacteria and algal blooms also create a film over the water, block sunlight from reaching organisms and deplete oxygen in the water which eventually kills the organisms. Considering the significant possible impacts on the environment, as well as in many other fields, a related research program in Gorun's laboratory is currently funded by a branch of the Department of Defense. The work conducted by Hannineh and her colleagues may contribute to an expansion of this program.
Serving as a lab assistant since her freshman year, Hannineh's responsibilities include maintaining and recording observations of fish, which are used as the model organism in the experiment, as well as the fish tanks. "It is easy to be passionate and excited about this research because I love helping the environment and I love learning about it. I feel like it is our job to find ways to improve it," said Hannineh.
In addition to her time in the lab and class work, Hannineh works part time and had previously volunteered at hospitals before the pandemic. While she does not know what the future holds for her, Hannineh knows she wants to go to medical school and continue improving the world and the lives of people around her.
"I love that I have the opportunity to participate in a research project, and the fact that I started with the project as a freshman is incredible. I honestly couldn't have imagined it and am grateful to Seton Hall for providing me the opportunity," said Hannineh. 
"It is critical for students to have the opportunity to experience working in a lab and doing research," Chu said. "For pre-med students like Lana who may not have considered research before college, having the opportunity to participate gives them a chance to determine if it suits them."
"Through research," Gorun added, "students learn responsibility, develop character and become critical thinkers by challenging conventional wisdom and authority."
At Seton Hall, the biology program provides students with a strong foundation in the modern sciences and prepares students through experiential learning, laboratory research and off-campus work experiences. The chemistry and biochemistry department offers students state-of-the-art facilities and the opportunity to work alongside faculty on research as earlier as freshman year. Click here to learn more about the biology department and here for more information on the chemistry and biochemistry department.
Categories: Arts and Culture , Science and Technology