Marissa Barbosa delivers keynote address at BCWEP Recognition Ceremony.
Marissa Barbosa, Seton Hall University 2019 B.S.W. graduate, was invited to be one of three keynote speakers at the annual Baccalaureate Child Welfare Education Program (BCWEP) Recognition Ceremony. The recognition ceremony marked the successful completion of the BCWEP program. BCWEP is a partnership among a consortium of seven accredited baccalaureate social work programs in New Jersey, the New Jersey Department of Children and Families, and the New Jersey Chapter of the National Association of Social Workers. The intent of the program is to enhance the public child welfare workforce by encouraging students with generalist social work education and additional coursework in child welfare to enter professional positions in NJ public child welfare agencies.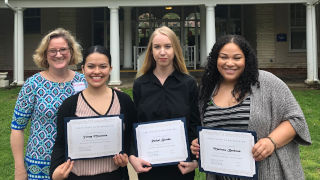 (l-r) Professor Mary Landriau with Yenny Masmela, Rachel Brooks, and Marissa Barbosa who will begin work at NJ DCP&P after graduating from the BCWEP program this May.
Students awarded this competitive child welfare traineeship receive tuition for one academic year. In return, students accepting a traineeship agree to work for the New Jersey Division of Child Protection and Permanency (NJ DCP&P) for a minimum of two years following graduation. Traineeships are funded by the New Jersey Department of Children and Families and the Social Security Act, Title IV-E. BCWEP continues to do its part to ensure that there are professionally qualified, diverse, skilled, and committed caseworkers in positions at the NJ DCP&P. Seton Hall students successfully completing this program in 2019-2020 include, Marissa Barbosa, Rachel Brooks, and Yenny Masmela.
For more information about BCWEP, contact Professor Mary Landriau at (973) 275-4830.
Categories: Education , Nation and World