Thursday, September 26, 2019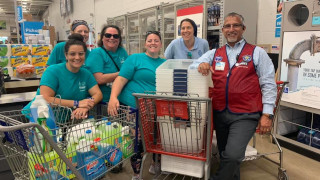 Assistant Professor Widian Nicola (far left) with volunteers in McAllen, Texas.
Assistant Professor Widian Nicola traveled to the U.S.-Mexico border in August to volunteer with Catholic Charities in McAllen, Texas.
After feeling "inundated" with news reports about the influx of refugees at the southern border, Nicola said she "had a sense she wanted to do something" to help. After hearing a report on National Public Radio on family separation, "there was a shift, and I thought, I have to go see it for myself – and do something," Nicola said.
Access to holding centers for refugees is limited to the public – and even to lawmakers – so the closest place to volunteer was the Humanitarian Respite Center run by Catholic Charities. Nicola gathered three friends, who are also social workers, to make the trip to volunteer. "I was overwhelmed by all the reports of families being separated. As a social worker, I felt the urgency to help the refugees in any way I could," Nicola said.
Before her trip, Nicola knew she wanted to share her mission and raise money for the respite center. Friends and family in her orbit wanted to help, too. "People wanted to help, but they didn't know how," Nicola said. By video blogging, posting updates on Facebook and starting a fundraising page, Nicola raised almost $5,500 before her trip even began. While in Texas, Nicola and the other volunteers raised an additional $5,000. One hundred percent of the money, Nicola said, was used to buy supplies for the respite center. Because the respite center must throw out donations that are soiled or unusable, volunteers used the money to buy clothing, toiletries and shoes for refugees. The refugees who come to the center "own nothing, nothing except the clothes on their back," Nicola said.
The money, Nicola said, was used to fill gaps in the respite center's available resources. They used some of the funds to buy a laptop and printer in order to facilitate the making of travel arrangements for the refugees. The money Nicola and other volunteers did not spend while they were in Texas was left with the center to buy clothing, cleaning supplies and other necessities.
Nicola volunteered at the respite center for four days. While there, she joined other volunteers in providing support to Catholic Charities, which has emerged as a leader in the aid to refugees. "It was a very powerful experience," Nicola said.
Nicola's goal is to turn what she witnessed at the border into action and a long-term impact. "There is very little discourse around the long-term trauma and impact" of the immigration process and family separation. "We're not having conversations in our local communities about how we can help refugees become acclimated and assimilated and how we can support them."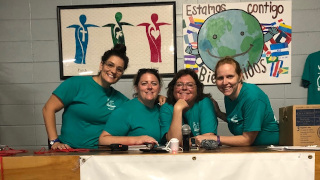 Assistant Professor Widian Nicola (far left) with volunteers at Catholic Charities' Humanitarian Respite Center in McAllen, Texas.
Nicola wants her students to have the same experience serving refugees as she did. "There's a responsibility here with what we do, with what we see and experience. Ideally, it would be great to take my students to the southern border," Nicola said. "It would be great to get students exposed to what I was exposed to."
An immigrant herself, Nicola appreciates the work Seton Hall has done on immigration issues. "The University has taken a strong stance on the message of welcome, so it's in perfect alignment" with the work she did at the southern border, Nicola said. Nicola is a part of the Immigration and Refugee Taskforce College of Arts and Sciences Dean Peter Shoemaker initiated last year.
It is "essential to engage people" in the issue of immigration, Nicola said. "And every little bit helps."
Read the University's statement on the elimination of DACA here.
Categories: Faith and Service