Wednesday, April 14, 2021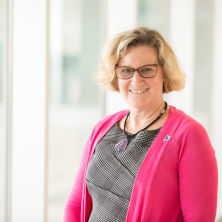 Mary Landriau, Faculty Associate and Director of BSW Field Education in the Department of Sociology, Anthropology, Social Work and Criminal Justice was elected to serve a three-year term on the Association of Baccalaureate Social Work Program Directors' (BPD) Board of Directors. The Board consists of 15 positions, only two of which are held by social work Field Directors. In her position, Mary Landriau represents all undergraduate field educators nationally.
Founded in 1975, BPD is a national non-profit association representing baccalaureate social work program administrators, faculty, field directors, program directors, students, and allied professionals dedicated to the promotion of excellence in baccalaureate social work education. It has nearly 800 current members, including all full-time social work faculty members at Seton Hall.
The 2021 BPD Annual Conference, entitled Beyond 2020: The New Normal, was held virtually and hosted by the University of Alabama on April 7-10, 2021.
Professor Mary Landriau and Dr. Dawn Apgar, Seton Hall's BSW Program Director, both were featured presenters.
Categories: Arts and Culture , Nation and World