"The opposite of love is not hate, it's indifference. The opposite of art is not ugliness, it's indifference. The opposite of faith is not heresy, it's indifference. And the opposite of life is not death, it's indifference."
- Elie Wiesel, Nobel Peace Prize winner and Holocaust victims advocate
Marcelle Brooks giving a speech
Understanding the importance of activism for change, the Sister Rose Thering Fund for Education in Jewish-Christian Studies held a Celebration of Education Reception which recognized the winners of its tenth annual high school essay competition on April 7. The theme of this year's competition, which was open to all high schools in New Jersey, was " The Holocaust: Keeping the Lessons Alive." 
Students were shown the Oscar-nominated film Sister Rose's Passion and were then asked to submit a 500-word essay about how Sister Rose Thering stood up for the Jewish community to eradicate anti-Semitism; how she inspires them to be upstanders themselves; and how they may act, or even perhaps have acted, as an upstander in their own lives.
"The student essay competition truly represents our work as a board to promote inter-religious dialogue and combat prejudice," said Melinda Hanlon, chair of the Board of Trustees for the Sister Rose Thering Fund. "Each year, we are impressed by the depth and compassion of the students' responses to our mission and the film's message to be an Upstander in our world."
Approximately 107 students from 19 different high schools had their essays submitted by their teachers, and the first-place winners and honorable mentions – separated by high school grade level – were in attendance with their families and friends as they were honored for their outstanding work. These young upstanders were:
Grade 9
First Place: Reese Trowbridge, Bayonne High School
Honorable Mention: Polina Kukhar, Bayonne High School
Grade 10
First Place: Jenna Downey, Bayonne High School
Honorable Mention: Vanessa Bellotti, Holmdel High School
Grade 11
First Place: Marcelle Brooks, Rahway High School
Honorable Mention: Angel Barahona-Reyes, Barack Obama Green Charter High School
Grade 12
First Place: Jamie Rossig, Pascack Hills High School
Honorable Mention: Danaiza Davis, American History High School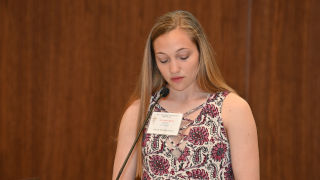 Jamie Rossig giving a speech
According to the Fund, both the film and the essay competition provide a great opportunity to engage students in a meaningful dialogue about imagining a world without prejudice. It also offers an opportunity to provide education in keeping with the New Jersey Mandate for Genocide and Holocaust Education, which indicates that issues of bias, prejudice and bigotry, including bullying through the teaching of the Holocaust and genocide, shall be included for all children in grades K-12.
"Sister Rose challenges young people to care about what is going on in society, especially to care when people need help," said David Bossman, founding Executive Director of the Fund. "When students in middle and high school are moved to finding ways of helping others, after watching Sister Rose's Passion, writing an essay is fine way to persuade others to care as well."
The guest speaker at the event was Jessica Wang, founding member of 3GNJ (Third Generation New Jersey). This educational, not-for-profit organization brings together descendants of Holocaust survivors to preserve the legacies and lessons of the Holocaust as well as educate diverse communities about the perils of intolerance. Wang spoke about her family's story — her grandparents as Holocaust survivors —and why she is committed to keeping its lessons alive for future generations through her involvement with 3GNJ. 
Because the Sister Rose Thering Fund also provides tuition assistance for teacher-scholars from public, private and parochial schools who enroll in Seton Hall's Master of Arts in Jewish-Christian Studies program, the reception also combined recognition for both essay winners as well as those who received sponsored SRTF scholarships over the 2018-19 academic year. Not only did this noteworthy event offer the opportunity for our sponsored scholarship donors to meet their scholarship recipients, donors as well as Board members and other friends of SRTF who attended saw the fruits of the SRTF mission at work in the classrooms as the message of Sister Rose echoed in the winning high school students. 
This year there were 18 scholarships provided over the fall and spring semesters to 10 teacher-scholars, thanks to the generosity of sponsored scholarship donors to the SRTF. Teacher-scholars received a certificate recognizing their scholarships and had the opportunity to thank the scholarship donors personally who attended the reception. Sponsored scholarship donors were also acknowledged, thanked and presented with certificates as well. 
The following are excerpts from two of the first-place essays:   
Jamie Rossig, Grade 12, Pascack Hills High School
"Sister Rose believes that it is crucial that the story and lessons of the Holocaust are passed on from generation to generation. I agree that continuing education is so important because the smallest derogatory comments can develop into unthinkable violence that we unfortunately already know is, indeed, humanly possible. Moreover, passing on the memories of the Holocaust becomes more and more important as the number of survivors and artifacts begins to dwindle. There is only so much tangible evidence left, so it is crucial that we continue to document testimonies and pass on the lessons we have learned."
Marcelle Brooks, Grade 11, Rahway High School
"Maybe not right now, but I see Sister Rose as my future. Like her, l want to leave the world better than I found it. I aspire to be assertive and strong-minded as she, speaking out during a time when the world wanted nothing more than for women to be silent. Most of all, I want to have Sister Roses' compassion for her fellow man, a love that was so great she went against everything she ever knew to be true."
Ruth Loew Schildiner, Sister Rose Thering Fund Trustee and Essay Competition Chair, believes the essay winners have "honored Sister Rose in their understanding that knowledge is the most powerful weapon with which to fight hatred and bigotry." She adds, "In today's political climate, it is crucial that young minds be exposed to the risks associated with prejudice."
Categories: Faith and Service
---
Celebration of Education Reception - Sister Rose Thering Foundation