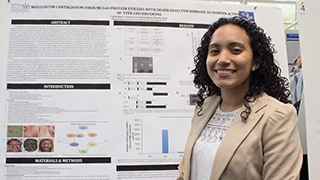 The 24th Annual Matthew Petersheim Academic Exposition 2020: Share, Honor, Unite will take place Monday through Friday, April 20-24, in celebration of the scholarly accomplishments and academic interests of the entire Seton Hall University community, including undergraduate and graduate students.
The health and safety of our students, faculty, employees and their families are of paramount importance so the Academic Expo will be held online for the first time ever with more than 100 student presentations delivered remotely and open to the University community and the public. The Expo honors the innovative spirit of Matthew Petersheim, Ph.D., associate professor of chemistry, who passed away in 1998. View the full schedule of events.
From 12 noon to 2 p.m. on Monday, April 20, the Opening Ceremony includes a Welcome Address by Dr. Joseph E. Nyre, President, followed by a Deans Panel on fostering student success as "One University" and featuring Bonita Stanton, Hackensack Meridian School of Medicine at Seton Hall University; John Buschman, University Libraries; Maureen Gillette, College of Education and Human Services; Courtney Smith, School of Diplomacy and International Relations; Karen Van Norman, Dean of Students; Deirdre Yates, College of Communication and the Arts; Peter Shoemaker, College of Arts and Sciences; Marie Foley, College of Nursing, and Monsignor Joseph Reilly, Immaculate Conception Seminary School of Theology.
"I am grateful that our Steering Committee, rather than turning away from the challenges in this COVID-19 crisis, have adapted through Seton Hall's command of technology to transition the 2020 Academic Exposition to an online platform. I express very sincere thanks to them and to Dr. Karen Boroff and the Provost's Office for their encouragement and invaluable support to convert an in-person Expo to an Expo online," said Professor Sulie Lin Chang, Petersheim co-chair.
Celebrating scholarship and innovation, the entire University joins together to communicate the scholarship and the research of our students in a community learning environment, showing how these lessons can be put to use on a professional level.
Presentations will include a wide range of topics including student poster presentations, oral contests, coronavirus related panel discussions as well as a Mandela-King Symposium on Global Justice, next generation omics, green chemistry and sustainability, an examination of poverty and social justice, scripture and social power, and a closing ceremony honoring all participants. There also will be an opportunity to nominate a Student and a Faculty Great Mind of the Petersheim Academic Exposition.
"This year's Petersheim Academic Expo is a digital gathering of great minds, brought together by Seton Hall via the spirit of what Great Minds can do," said Professor Jose Lopez, event co-chair. To learn more about the program and activities, please visit the Petersheim Academic Exposition website.
Categories: Arts and Culture