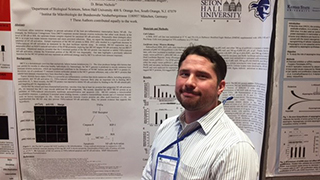 Bill De Martini recently presented his graduate research at the 36th Annual American Society for Virology meeting held in Madison, Wisconsin. The annual meeting highlights state of the art virology research conducted by national and international institutions.
Currently, Bill is a Ph.D. candidate in the Department of Biological Sciences conducting molecular virology research in Dr. Dan Nichols' lab. He is studying the immune evasion strategies of the Molluscum Contagiosum Virus (MCV). MCV causes a common skin infection that persists from months to years in patients. Treatment options are extremely limited to successfully resolve MCV infections. Interestingly, MCV employs unique strategies that allow the virus to hide from the immune system for a significant period of time.
Continuing a project initiated by former SHU Master's student Jesse Coutu, now a Ph.D. candidate at Oregon State University, Jesse and Bill identified and characterized a novel MCV protein, designated MC163, with anti-inflammatory properties. Presumably, MC163 is expressed during an MCV infection along with other viral proteins to suppress local immune responses. As part of his Ph.D. project, Bill is continuing to investigate the molecular mechanisms through which MC163 elicits its effects. When completed, his work will shed valuable insights into how MCV evades host cell immune responses. Funding for his work was provided by the Seton Hall University Research Council.
In addition, Bill recently co-authored a review article entitled "Poxviruses Utilize Multiple Strategies to Inhibit Apoptosis" in collaboration with his mentor Dr. Nichols and biology faculty member Dr. Jessica Cottrell. The article discusses the elaborate strategies through which MCV and other poxviruses prevent the activation of programmed cell death, a powerful host defense mechanism used to halt viral replication. The article can be accessed in the August edition of the journal Viruses.
Categories: Health and Medicine , Research , Science and Technology