Wednesday, March 24, 2021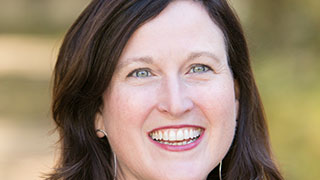 Dr. Susan A. Nolan, Professor, Department of Psychology, is the recipient of The International Council of Psychologists' (ICP) Fukuhara Advanced International Research and Service Award. Dr. Nolan joins a list of previous winners that includes some of the most prominent scholars and practitioners in the field of international psychology. As noted on ICP's website, the Fukuhara Award "…is given to a to a senior or mid-career level psychologist with distinguished contributions to international psychology in research and service."
Dr. Nolan was recognized by the Fukuhara Award committee because of her accomplishments as both a scholar and leader within the field. After receiving her PhD from Northwestern University and completing a clinical internship at Vanderbilt University, Dr. Nolan joined the Seton Hall Department of Psychology in 1999. As noted in the ICP announcement, Dr. Nolan has conducted research in multiple domains, including studies on "…the stigma associated with psychological disorders and the role of gender in science, technology, engineering and mathematics (STEM) education, the latter funded in part by the National Science Foundation." In addition to more than 40 publications, Dr. Nolan is the coauthor of textbooks on Introduction to Psychology and Undergraduate Statistics for the Behavioral Sciences.
Dr. Nolan's expertise and contributions to both international psychology and the teaching of psychology have been widely recognized. She is the 2021 President of the Society for the Teaching of Psychology, an associate editor for the journal, Psychology Learning and Teaching, and a consulting editor for the American Psychological Association's (APA) journal Scholarship of Teaching and Learning in Psychology. Dr. Nolan has also served as a President of the Eastern Psychological Association (EPA) and Treasurer for the APA's Division of International Psychology. From 2009-2014, Dr. Nolan was an NGO representative from the APA to the United Nations. She is a Fellow of the APA, the EPA, and the Association for Psychological Science. In 2015-2016, Dr. Nolan was a U.S Fulbright Scholar in Bosnia and Herzegovina where her studies focused on higher education in the region.
At Seton Hall, Dr. Nolan served as the Chair of the Psychology Department from 2008-2014 and Chair of the Middle States Commission on Higher Education Decennial Review Steering Committee for Seton Hall University from 2011-2014. The course she created for Seton Hall students, International Psychology, is extremely popular and valued across the University.
ICP is a global association including scholars, practitioners, and students of psychology and related fields. The association's mission focuses on "…promoting human rights, dignity and justice, and strengthening collaboration among researchers, educators and applied professionals globally to further international understanding and world peace." Since its founding in 1941, ICP has made significant contributions to international causes and holds a long-standing position within the United Nations.
Categories: Education , Research , Science and Technology